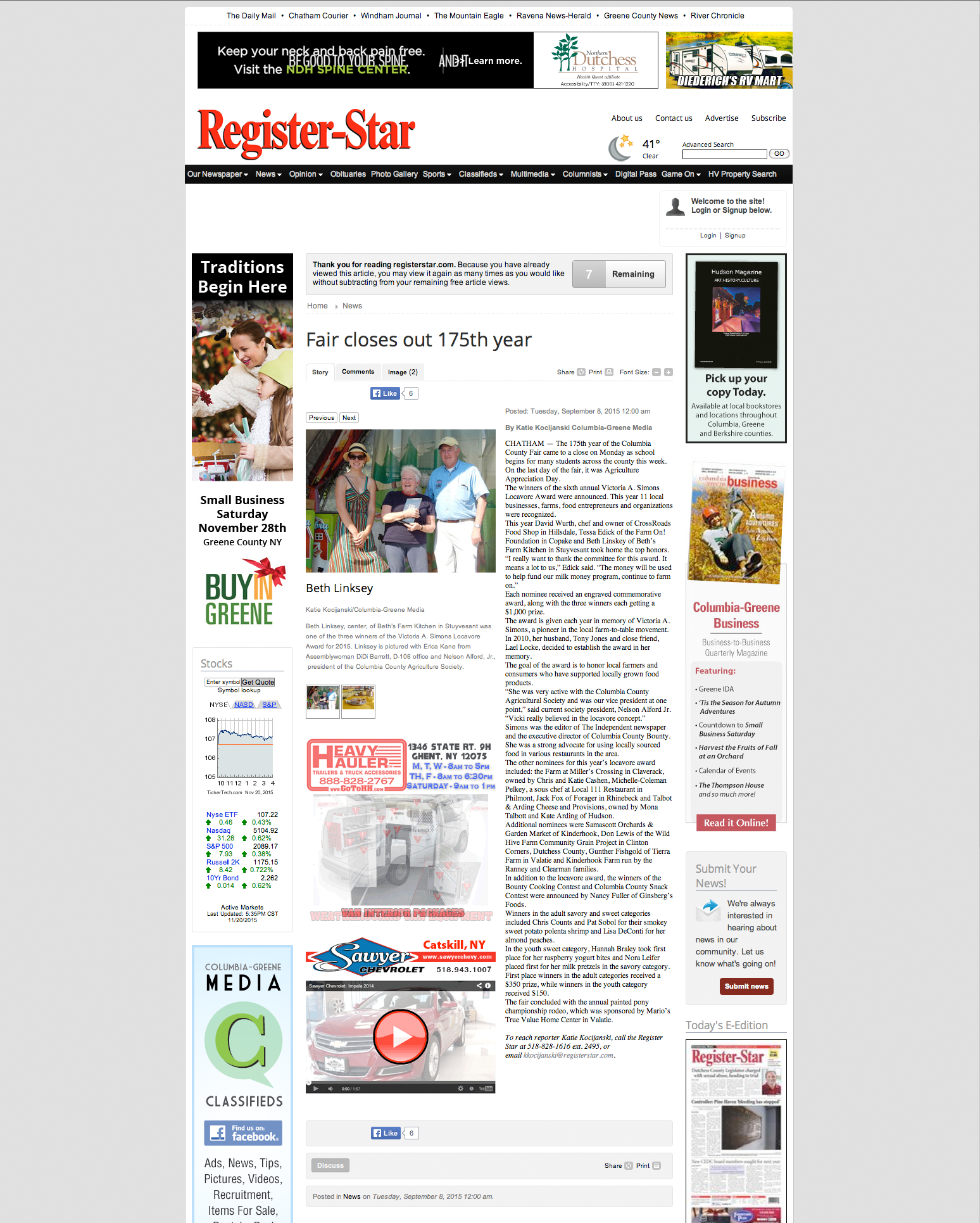 Sep
08
2015
2015-09-08 Register Star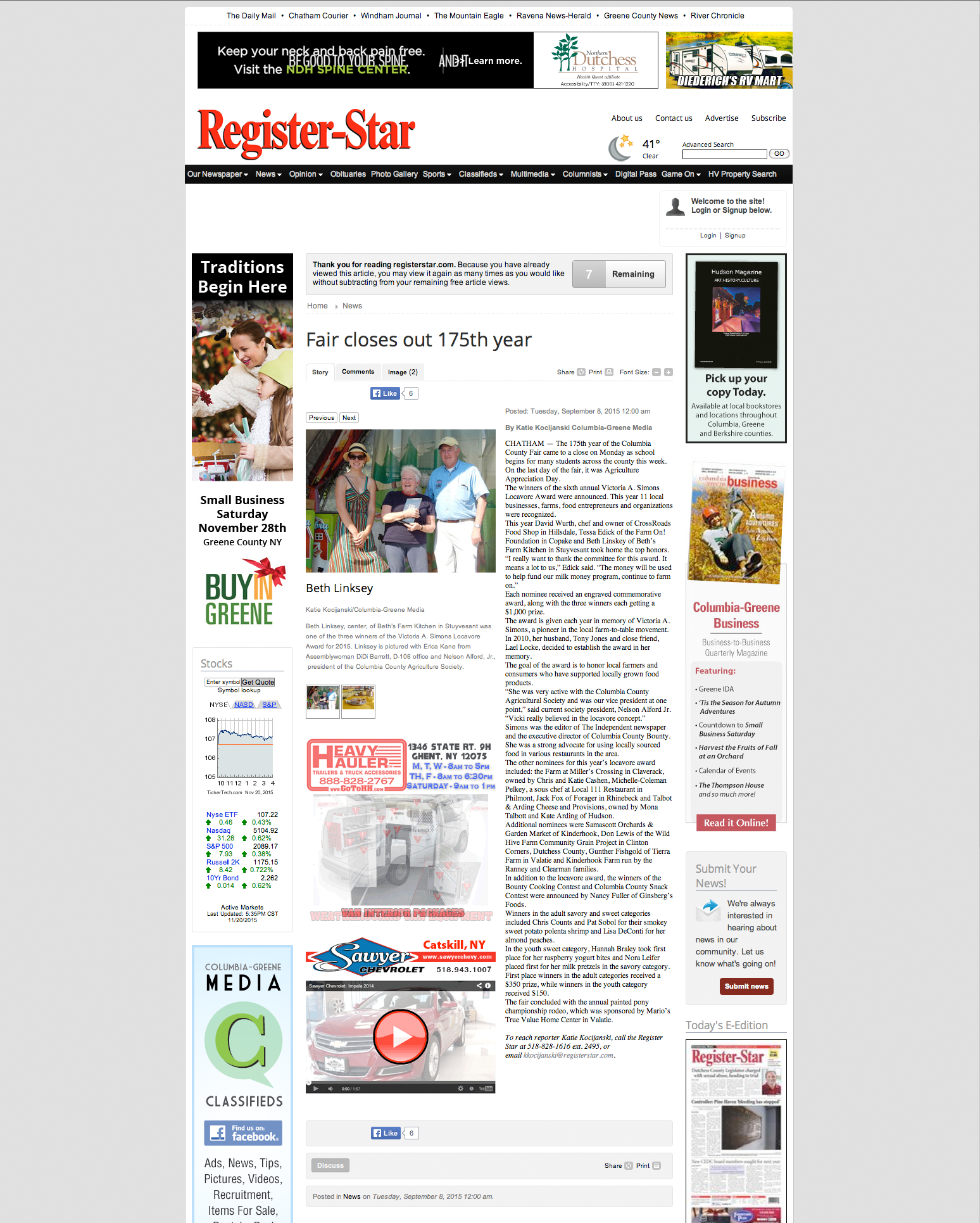 Fair closes out 175th year

Posted: Tuesday, September 8, 2015 12:00 am

By Katie Kocijanski Columbia-Greene Media

CHATHAM — The 175th year of the Columbia County Fair came to a close on Monday as school begins for many students across the county this week. 
On the last day of the fair, it was Agriculture Appreciation Day. 

The winners of the sixth annual Victoria A. Simons Locavore Award were announced. This year 11 local businesses, farms, food entrepreneurs and organizations were recognized. 

This year David Wurth, chef and owner of CrossRoads Food Shop in Hillsdale, Tessa Edick of the Farm On! Foundation in Copake and Beth Linskey of Beth's Farm Kitchen in Stuyvesant took home the top honors. 

"I really want to thank the committee for this award. It means a lot to us," Edick said. "The money will be used to help fund our milk money program, continue to farm on." 

Each nominee received an engraved commemorative award, along with the three winners each getting a $1,000 prize. 

The award is given each year in memory of Victoria A. Simons, a pioneer in the local farm-to-table movement. In 2010, her husband, Tony Jones and close friend, Lael Locke, decided to establish the award in her memory. 

The goal of the award is to honor local farmers and consumers who have supported locally grown food products.

"She was very active with the Columbia County Agricultural Society and was our vice president at one point," said current society president, Nelson Alford Jr. "Vicki really believed in the locavore concept." 

Simons was the editor of The Independent newspaper and the executive director of Columbia County Bounty. She was a strong advocate for using locally sourced food in various restaurants in the area. 

The other nominees for this year's locavore award included: the Farm at Miller's Crossing in Claverack, owned by Chris and Katie Cashen, Michelle-Coleman Pelkey, a sous chef at Local 111 Restaurant in Philmont, Jack Fox of Forager in Rhinebeck and Talbot & Arding Cheese and Provisions, owned by Mona Talbott and Kate Arding of Hudson. 

Additional nominees were Samascott Orchards & Garden Market of Kinderhook, Don Lewis of the Wild Hive Farm Community Grain Project in Clinton Corners, Dutchess County, Gunther Fishgold of Tierra Farm in Valatie and Kinderhook Farm run by the Ranney and Clearman families. 

In addition to the locavore award, the winners of the Bounty Cooking Contest and Columbia County Snack Contest were announced by Nancy Fuller of Ginsberg's Foods. 

Winners in the adult savory and sweet categories included Chris Counts and Pat Sobol for their smokey sweet potato polenta shrimp and Lisa DeConti for her almond peaches. 

In the youth sweet category, Hannah Braley took first place for her raspberry yogurt bites and Nora Leifer placed first for her milk pretzels in the savory category. 

First place winners in the adult categories received a $350 prize, while winners in the youth category received $150. 

The fair concluded with the annual painted pony championship rodeo, which was sponsored by Mario's True Value Home Center in Valatie. 
 
To reach reporter Katie Kocijanski, call the Register Star at 518-828-1616 ext. 2495, or email kkocijanski@registerstar.com.

Posted in News on Tuesday, September 8, 2015 12:00 am.
Copyright © 2015 Register Star