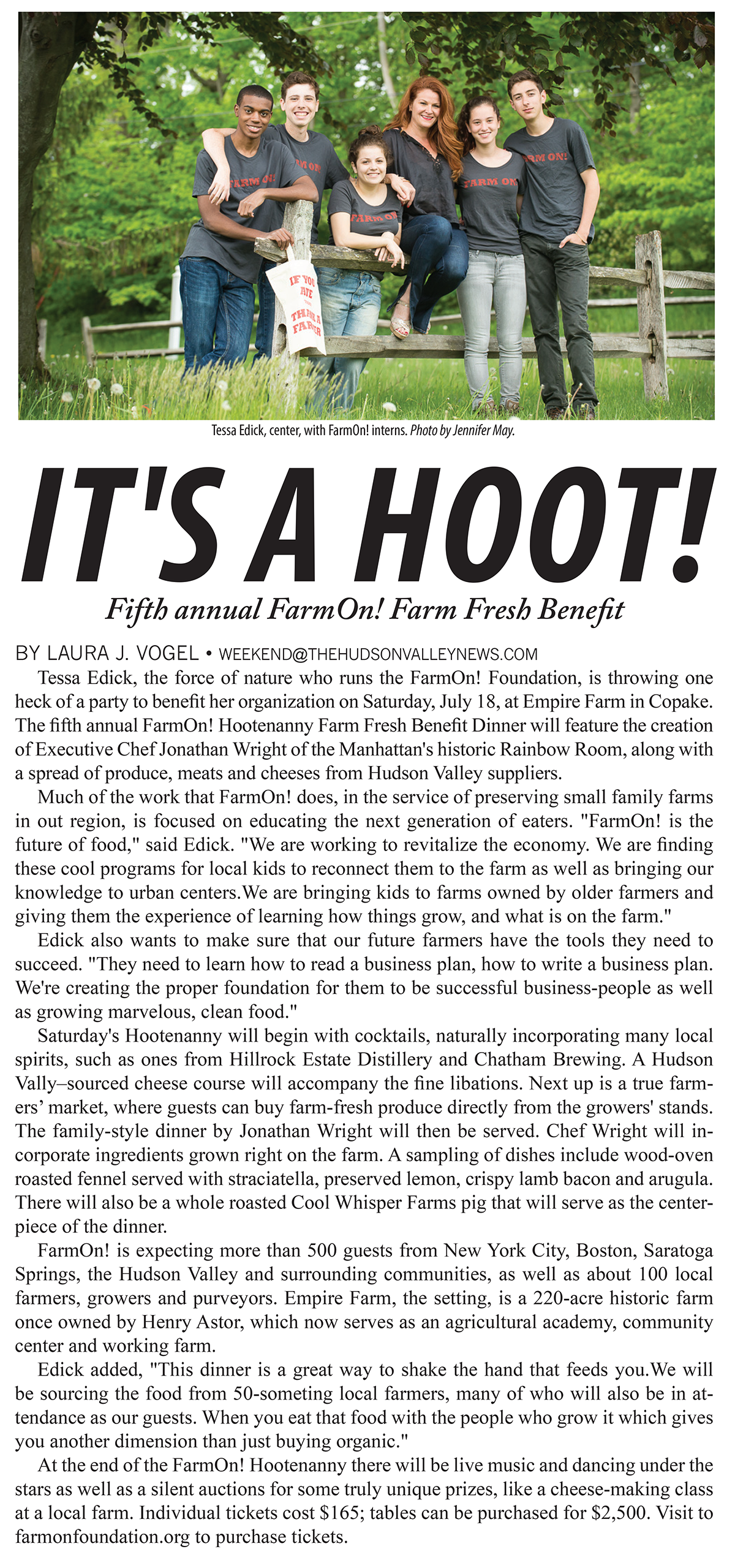 Jul
18
2015
2015-07-18 Hudson Valley News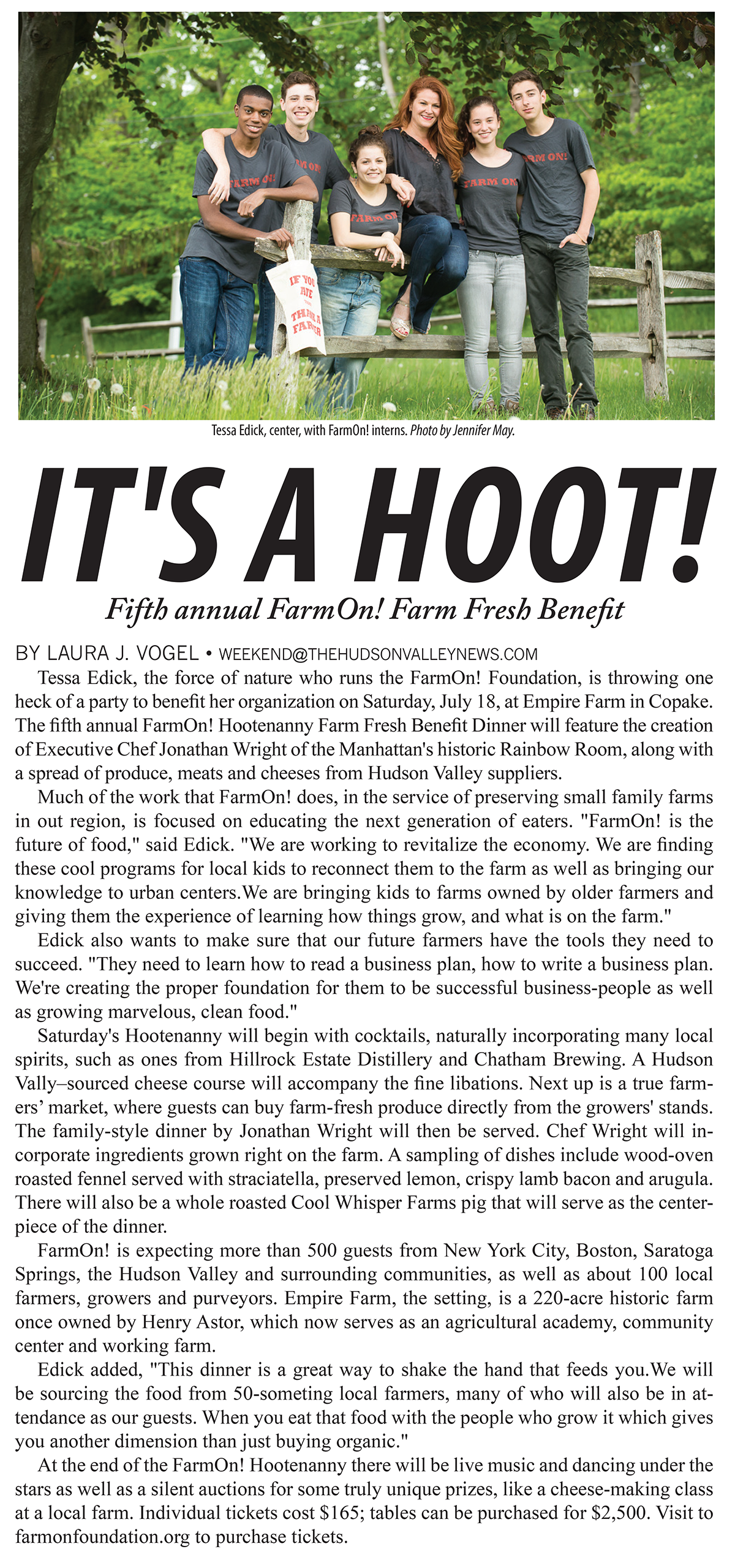 IT'S A HOOT!

Fifth annual FarmOn! Farm Fresh Benefit

Tessa Edick, the force of nature who runs the FarmOn! Foundation, is 
throwing one heck of a party to benefi t her organization on Saturday, 
July 18, at Empire Farm in Copake. The fifth annual FarmOn! Hootenanny 
Farm Fresh Benefi t Dinner will feature the creation of Executive Chef 
Jonathan Wright of the Manhattan's historic Rainbow Room, along with a 
spread of produce, meats and cheeses from Hudson Valley suppliers.

Much of the work that FarmOn! does, in the service of preserving small 
family farms in out region, is focused on educating the next generation 
of eaters. "FarmOn! is the future of food," said Edick. "We are working 
to revitalize the economy. We are finding these cool programs for local 
kids to reconnect them to the farm as well as bringing our knowledge to 
urban centers.

We are bringing kids to farms owned by older farmers and giving them the 
experience of learning how things grow, and what is on the farm." Edick 
also wants to make sure that our future farmers have the tools they need 
to succeed. "They need to learn how to read a business plan, how to 
write a business plan. We're creating the proper foundation for them to 
be successful business-people as well as growing marvelous, clean 
food."Saturday's Hootenanny will begin with cocktails, naturally 
incorporating many local spirits, such as ones from Hillrock Estate 
Distillery and Chatham Brewing.

A Hudson Vally–sourced cheese course will accompany the fine libations. 
Next up is a true farmers' market, where guests can buy farm-fresh 
produce directly from the growers' stands. The family-style dinner by 
Jonathan Wright will then be served. Chef Wright will in-corporate 
ingredients grown right on the farm. A sampling of dishes include 
wood-oven roasted fennel served with straciatella, preserved lemon, 
crispy lamb bacon and arugula. There will also be a whole roasted Cool 
Whisper Farms pig that will serve as the center-piece of the dinner. 
FarmOn! is expecting more than 500 guests from New York City, Boston, 
Saratoga Springs, the Hudson Valley and surrounding communities, as well 
as about 100 local farmers, growers and purveyors. Empire Farm, the 
setting, is a 220-acre historic farm once owned by Henry Astor, which 
now serves as an agricultural academy, community center and working farm.

Edick added, "This dinner is a great way to shake the hand that feeds 
you. We will be sourcing the food from 50-someting local farmers, many 
of who will also be in at-tendance as our guests. When you eat that food 
with the people who grow it which gives you another dimension than just 
buying organic."At the end of the FarmOn! Hootenanny there will be live 
music and dancing under the stars as well as a silent auctions for some 
truly unique prizes, like a cheese-making class at a local farm. 
Individual tickets cost $165; tables can be purchased for $2,500. Visit 
to farmonfoundation.org to purchase tickets.
Copyright © 2015 Hudson Valley News