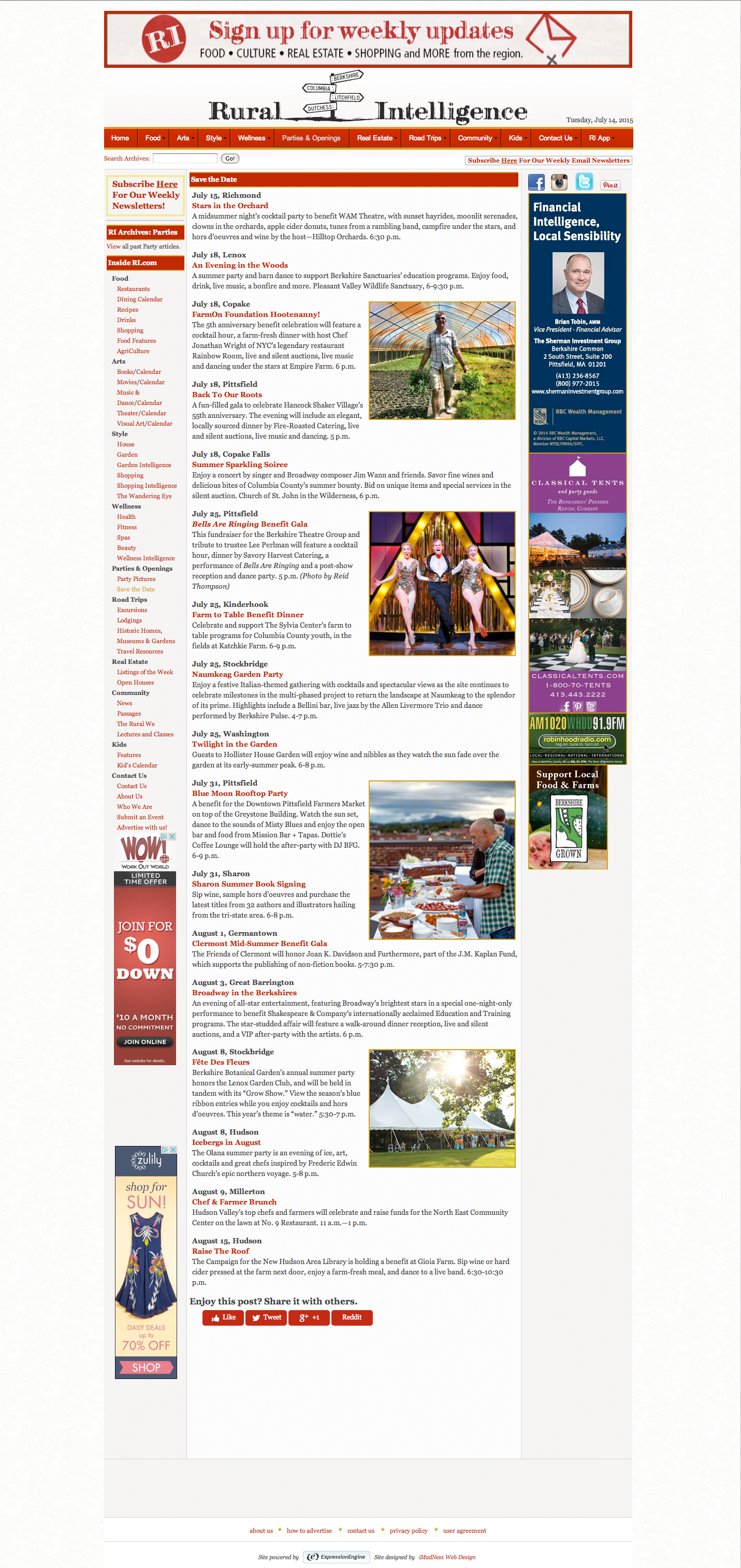 Jun
14
2015
2015-07-14 Rural Intelligence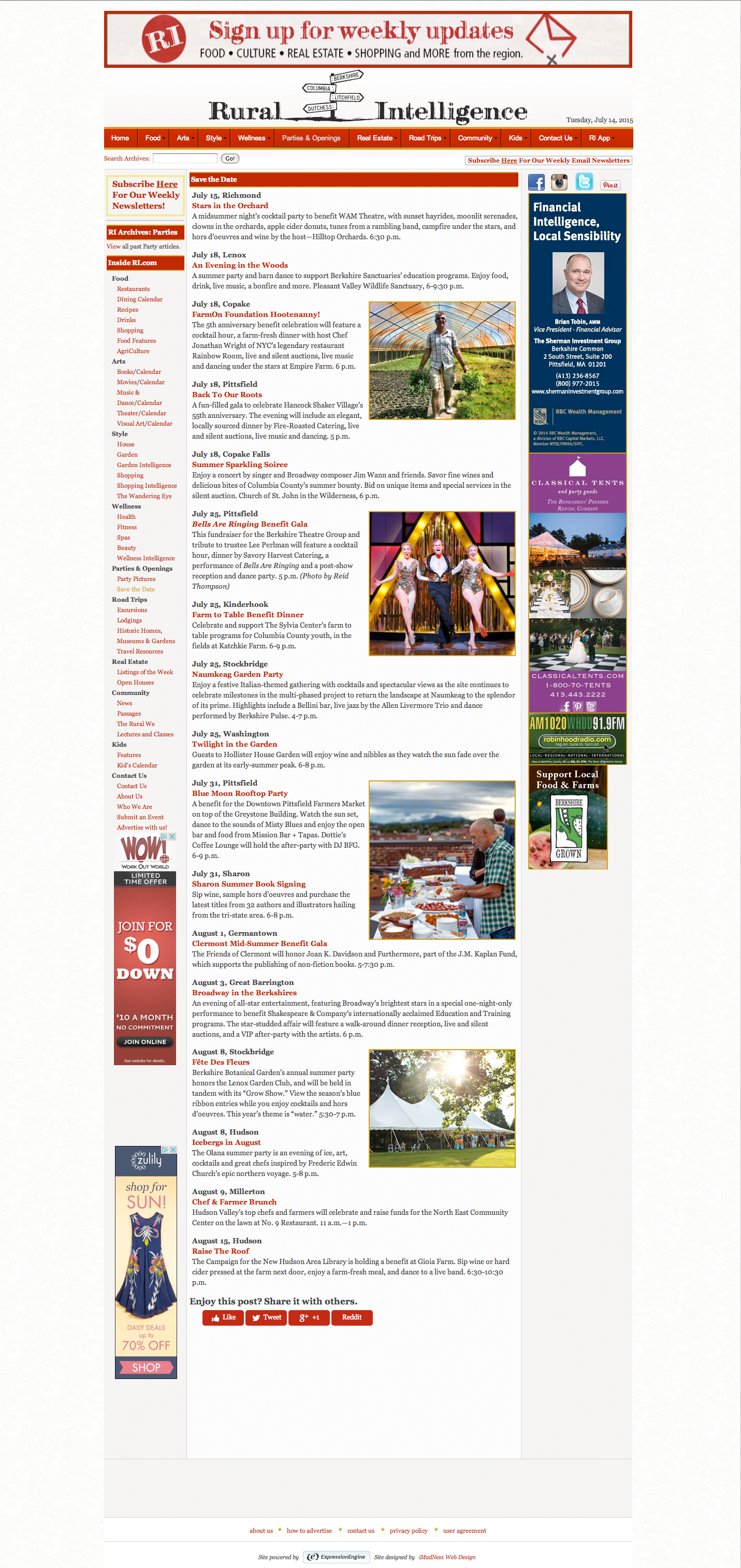 Save the Date

July 15, Richmond
Stars in the Orchard
A midsummer night's cocktail party to benefit WAM Theatre, with sunset hayrides, moonlit serenades, clowns in the orchards, apple cider donuts, tunes from a rambling band, campfire under the stars, and hors d'oeuvres and wine by the host—Hilltop Orchards. 6:30 p.m.

July 18, Lenox
An Evening in the Woods
A summer party and barn dance to support Berkshire Sanctuaries' education programs. Enjoy food, drink, live music, a bonfire and more. Pleasant Valley Wildlife Sanctuary, 6-9:30 p.m.

July 18, Copake
FarmOn Foundation Hootenanny!
The 5th anniversary benefit celebration will feature a cocktail hour, a farm-fresh dinner with host Chef Jonathan Wright of NYC's legendary restaurant Rainbow Room, live and silent auctions, live music and dancing under the stars at Empire Farm. 6 p.m.

July 18, Pittsfield
Back To Our Roots
A fun-filled gala to celebrate Hancock Shaker Village's 55th anniversary. The evening will include an elegant, locally sourced dinner by Fire-Roasted Catering, live and silent auctions, live music and dancing. 5 p.m.

July 18, Copake Falls
Summer Sparkling Soiree
Enjoy a concert by singer and Broadway composer Jim Wann and friends. Savor fine wines and delicious bites of Columbia County's summer bounty. Bid on unique items and special services in the silent auction. Church of St. John in the Wilderness, 6 p.m.

July 25, Pittsfield
Bells Are Ringing Benefit Gala
This fundraiser for the Berkshire Theatre Group and tribute to trustee Lee Perlman will feature a cocktail hour, dinner by Savory Harvest Catering, a performance of Bells Are Ringing and a post-show reception and dance party. 5 p.m. (Photo by Reid Thompson)

July 25, Kinderhook
Farm to Table Benefit Dinner
Celebrate and support The Sylvia Center's farm to table programs for Columbia County youth, in the fields at Katchkie Farm. 6-9 p.m.

July 25, Stockbridge
Naumkeag Garden Party
Enjoy a festive Italian-themed gathering with cocktails and spectacular views as the site continues to celebrate milestones in the multi-phased project to return the landscape at Naumkeag to the splendor of its prime. Highlights include a Bellini bar, live jazz by the Allen Livermore Trio and dance performed by Berkshire Pulse. 4-7 p.m.

July 25, Washington
Twilight in the Garden
Guests to Hollister House Garden will enjoy wine and nibbles as they watch the sun fade over the garden at its early-summer peak. 6-8 p.m.

July 31, Pittsfield
Blue Moon Rooftop Party
A benefit for the Downtown Pittsfield Farmers Market on top of the Greystone Building. Watch the sun set, dance to the sounds of Misty Blues and enjoy the open bar and food from Mission Bar + Tapas. Dottie's Coffee Lounge will hold the after-party with DJ BFG. 6-9 p.m.

July 31, Sharon
Sharon Summer Book Signing
Sip wine, sample hors d'oeuvres and purchase the latest titles from 32 authors and illustrators hailing from the tri-state area. 6-8 p.m.

August 1, Germantown
Clermont Mid-Summer Benefit Gala
The Friends of Clermont will honor Joan K. Davidson and Furthermore, part of the J.M. Kaplan Fund, which supports the publishing of non-fiction books. 5-7:30 p.m.

August 3, Great Barrington
Broadway in the Berkshires
An evening of all-star entertainment, featuring Broadway's brightest stars in a special one-night-only performance to benefit Shakespeare & Company's internationally acclaimed Education and Training programs. The star-studded affair will feature a walk-around dinner reception, live and silent auctions, and a VIP after-party with the artists. 6 p.m.

August 8, Stockbridge
Fête Des Fleurs
Berkshire Botanical Garden's annual summer party honors the Lenox Garden Club, and will be held in tandem with its "Grow Show." View the season's blue ribbon entries while you enjoy cocktails and hors d'oeuvres. This year's theme is "water." 5:30-7 p.m.

August 8, Hudson
Icebergs in August
The Olana summer party is an evening of ice, art, cocktails and great chefs inspired by Frederic Edwin Church's epic northern voyage. 5-8 p.m.

August 9, Millerton
Chef & Farmer Brunch
Hudson Valley's top chefs and farmers will celebrate and raise funds for the North East Community Center on the lawn at No. 9 Restaurant. 11 a.m.—1 p.m.

August 15, Hudson
Raise The Roof
The Campaign for the New Hudson Area Library is holding a benefit at Gioia Farm. Sip wine or hard cider pressed at the farm next door, enjoy a farm-fresh meal, and dance to a live band. 6:30-10:30 p.m.

Enjoy this post? Share it with others.
Copyright © 2015 Rural Intelligence