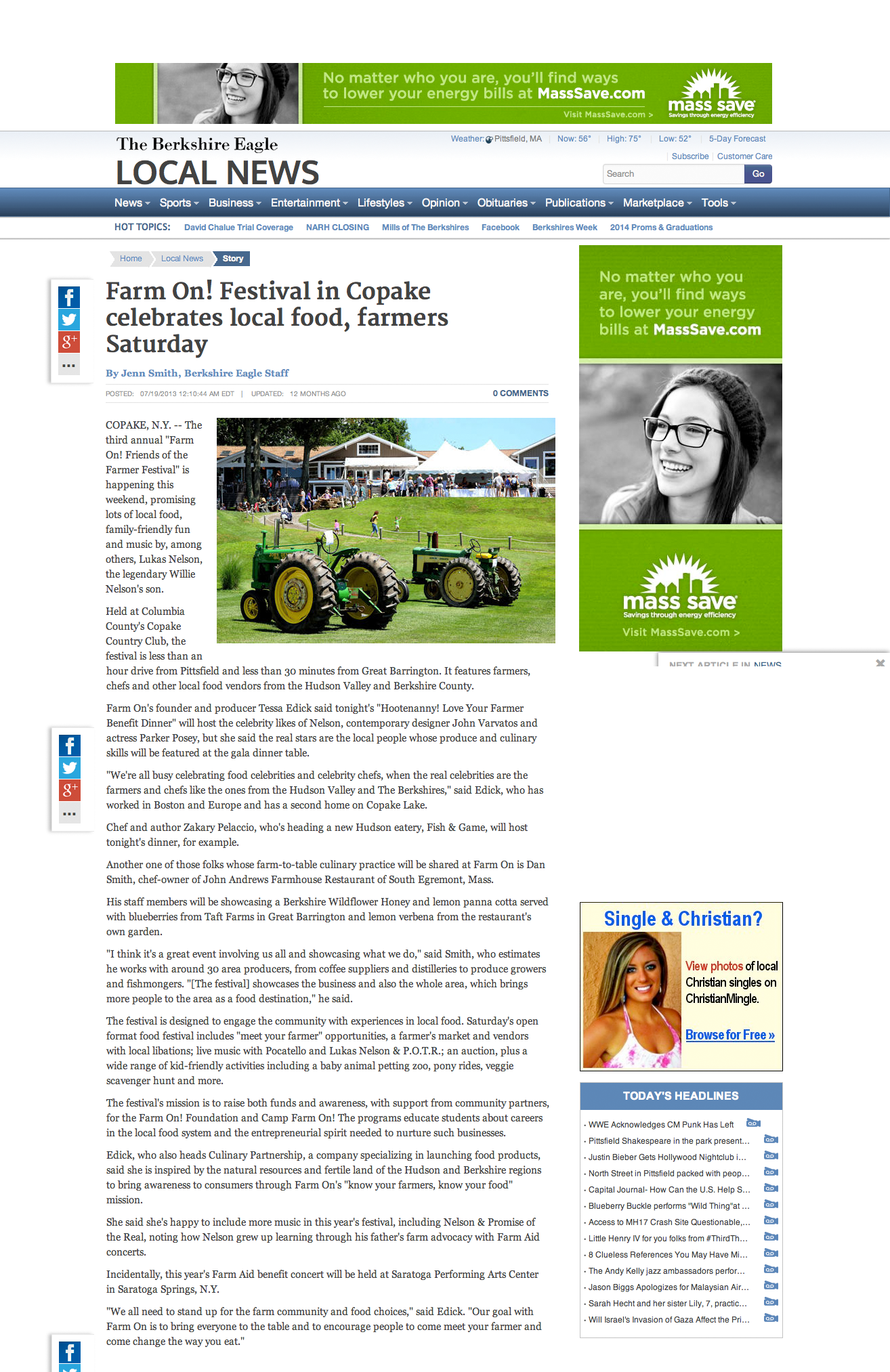 Jul
19
2013
2013-07-19 The Berkshire Eagle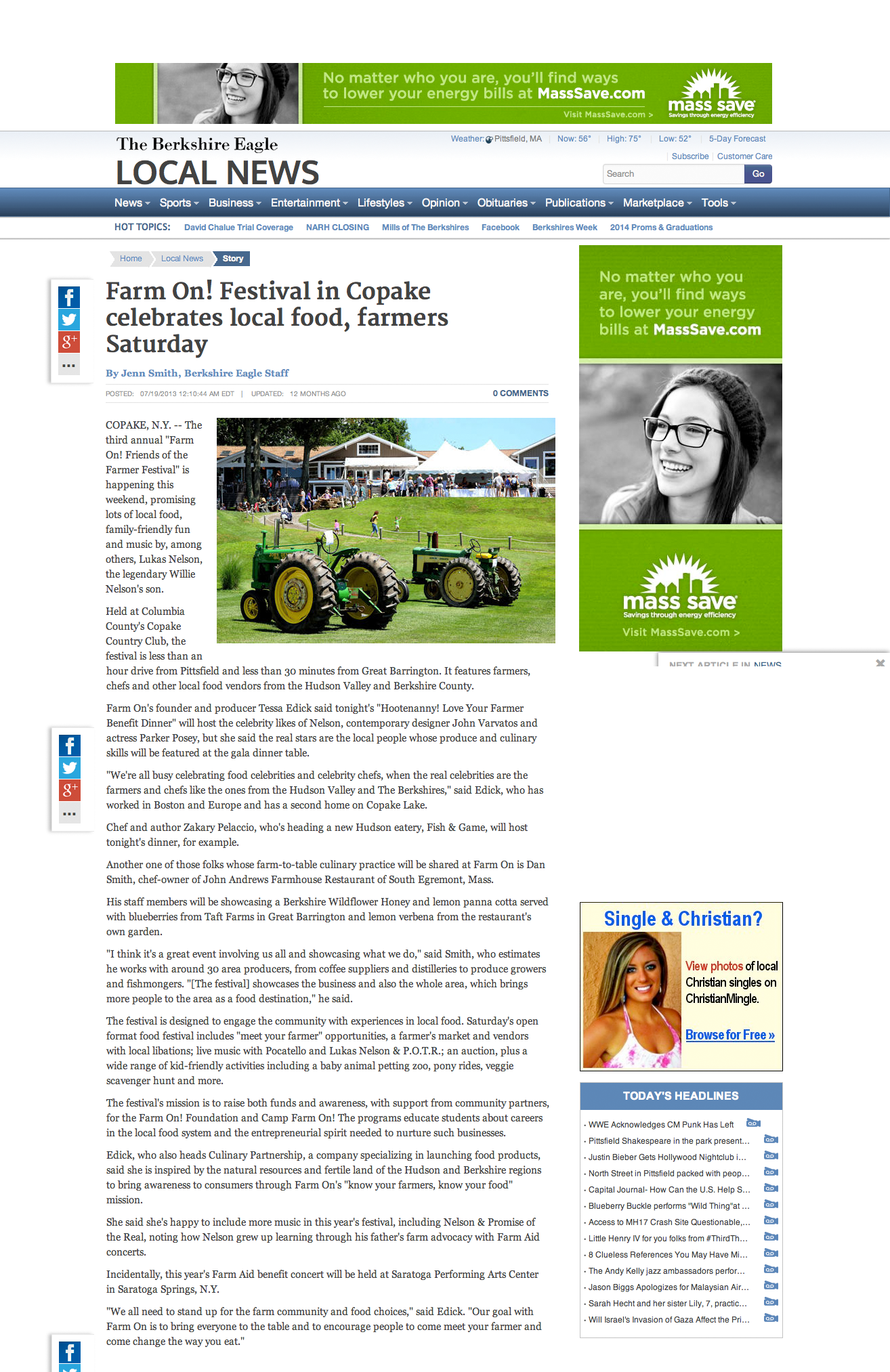 Farm On! Festival in Copake celebrates local food, farmers Saturday

By Jenn Smith, Berkshire Eagle Staff

POSTED:   07/19/2013 12:10:44 AM EDT0 COMMENTS| UPDATED:   12 MONTHS AGO

COPAKE, N.Y. -- The third annual "Farm On! Friends of the Farmer Festival" is happening this weekend, promising lots of local food, family-friendly fun and music by, among others, Lukas Nelson, the legendary Willie Nelson's son.

Held at Columbia County's Copake Country Club, the festival is less than an hour drive from Pittsfield and less than 30 minutes from Great Barrington. It features farmers, chefs and other local food vendors from the Hudson Valley and Berkshire County.

Farm On's founder and producer Tessa Edick said tonight's "Hootenanny! Love Your Farmer Benefit Dinner" will host the celebrity likes of Nelson, contemporary designer John Varvatos and actress Parker Posey, but she said the real stars are the local people whose produce and culinary skills will be featured at the gala dinner table.

"We're all busy celebrating food celebrities and celebrity chefs, when the real celebrities are the farmers and chefs like the ones from the Hudson Valley and The Berkshires," said Edick, who has worked in Boston and Europe and has a second home on Copake Lake.

Chef and author Zakary Pelaccio, who's heading a new Hudson eatery, Fish & Game, will host tonight's dinner, for example.

Another one of those folks whose farm-to-table culinary practice will be shared at Farm On is Dan Smith, chef-owner of John Andrews Farmhouse Restaurant of South Egremont, Mass.

His staff members will be showcasing a Berkshire Wildflower Honey and lemon panna cotta served with blueberries from Taft Farms in Great Barrington and lemon verbena from the restaurant's own garden.

"I think it's a great event involving us all and showcasing what we do," said Smith, who estimates he works with around 30 area producers, from coffee suppliers and distilleries to produce growers and fishmongers. "[The festival] showcases the business and also the whole area, which brings more people to the area as a food destination," he said.

The festival is designed to engage the community with experiences in local food. Saturday's open format food festival includes "meet your farmer" opportunities, a farmer's market and vendors with local libations; live music with Pocatello and Lukas Nelson & P.O.T.R.; an auction, plus a wide range of kid-friendly activities including a baby animal petting zoo, pony rides, veggie scavenger hunt and more.

The festival's mission is to raise both funds and awareness, with support from community partners, for the Farm On! Foundation and Camp Farm On! The programs educate students about careers in the local food system and the entrepreneurial spirit needed to nurture such businesses.

Edick, who also heads Culinary Partnership, a company specializing in launching food products, said she is inspired by the natural resources and fertile land of the Hudson and Berkshire regions to bring awareness to consumers through Farm On's "know your farmers, know your food" mission.

She said she's happy to include more music in this year's festival, including Nelson & Promise of the Real, noting how Nelson grew up learning through his father's farm advocacy with Farm Aid concerts.

Incidentally, this year's Farm Aid benefit concert will be held at Saratoga Performing Arts Center in Saratoga Springs, N.Y.

"We all need to stand up for the farm community and food choices," said Edick. "Our goal with Farm On is to bring everyone to the table and to encourage people to come meet your farmer and come change the way you eat."
Copyright © 2013 The Berkshire Eagle