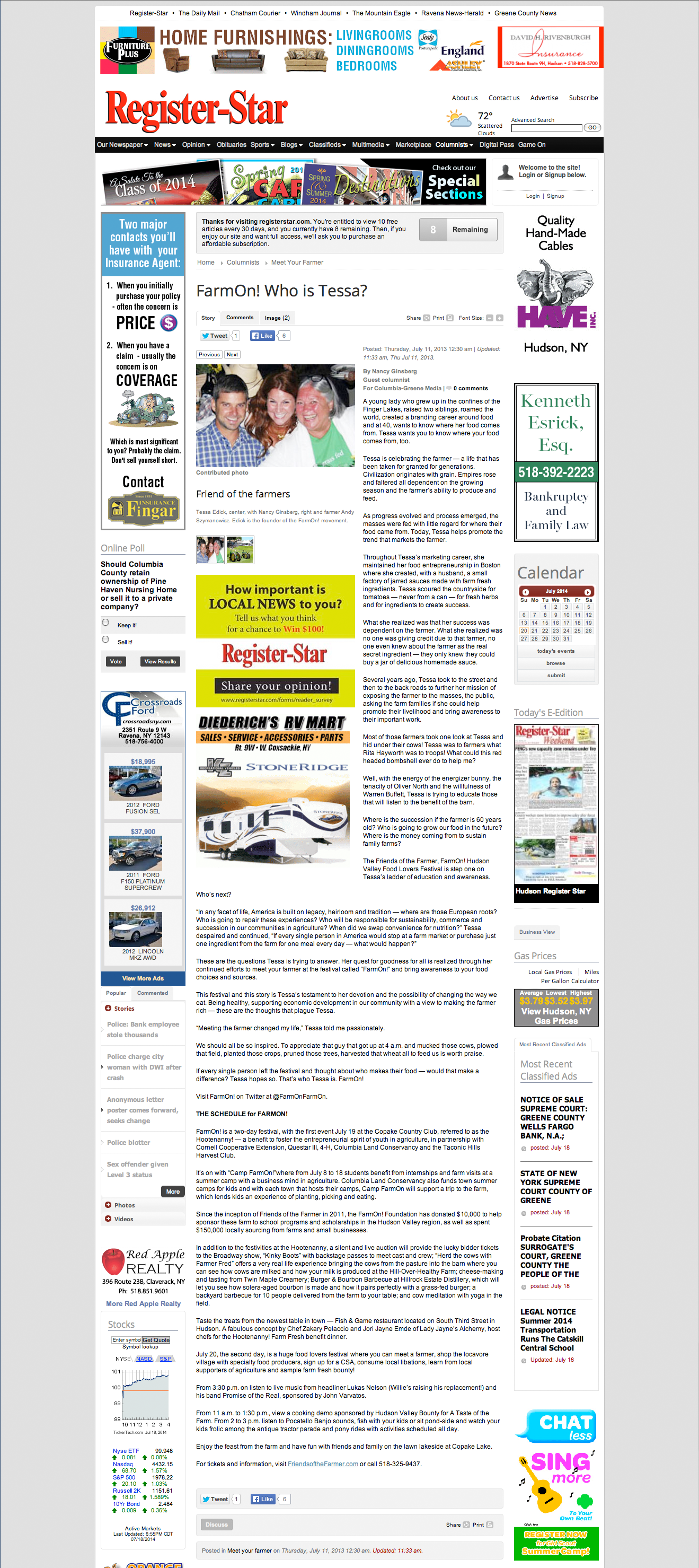 Jul
11
2013
2013-07-11 Register Star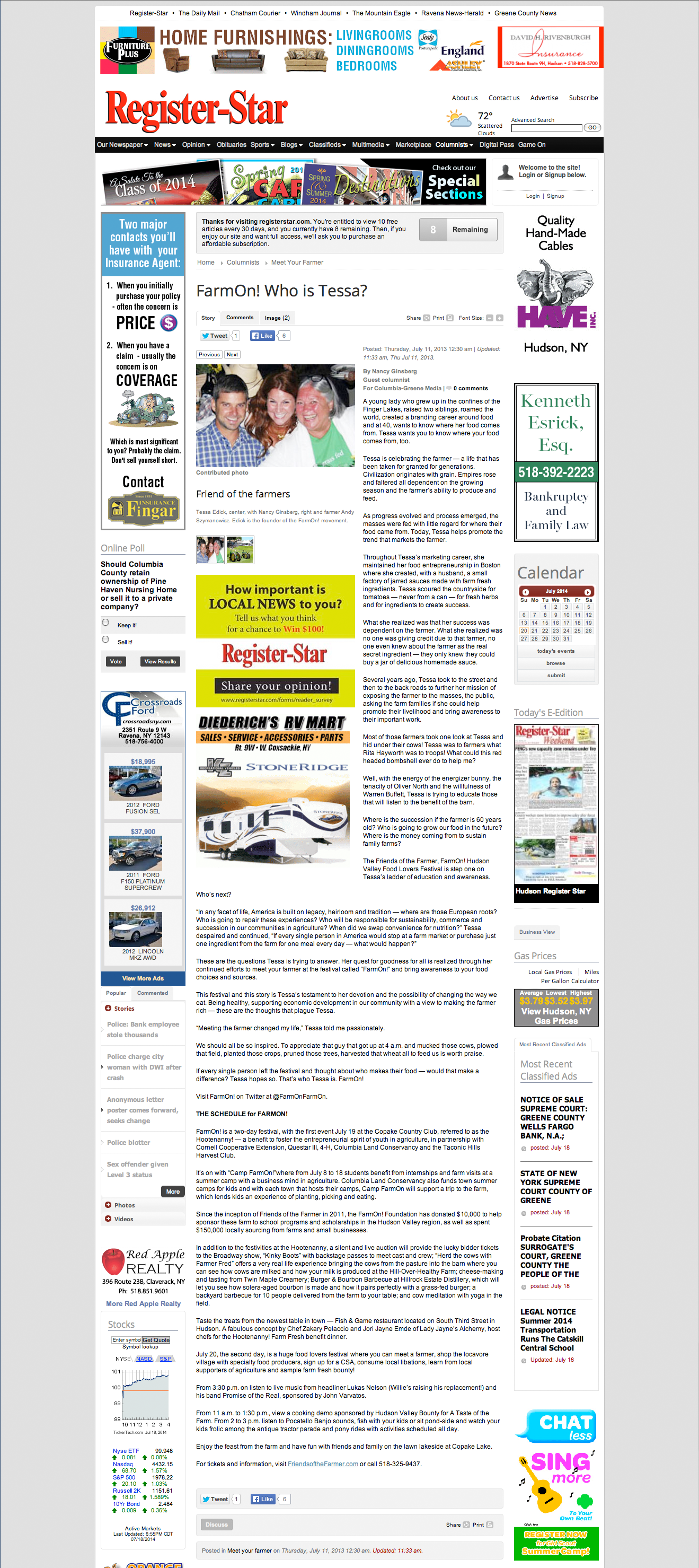 FarmOn! Who is Tessa?

Posted: Thursday, July 11, 2013 12:30 am | Updated: 11:33 am, Thu Jul 11, 2013.
By Nancy Ginsberg 
Guest columnist 
For Columbia-Greene Media 

A young lady who grew up in the confines of the Finger Lakes, raised two siblings, roamed the world, created a branding career around food and at 40, wants to know where her food comes from. Tessa wants you to know where your food comes from, too.

Tessa is celebrating the farmer — a life that has been taken for granted for generations. Civilization originates with grain. Empires rose and faltered all dependent on the growing season and the farmer's ability to produce and feed.

As progress evolved and process emerged, the masses were fed with little regard for where their food came from. Today, Tessa helps promote the trend that markets the farmer.

Throughout Tessa's marketing career, she maintained her food entrepreneurship in Boston where she created, with a husband, a small factory of jarred sauces made with farm fresh ingredients. Tessa scoured the countryside for tomatoes — never from a can — for fresh herbs and for ingredients to create success.

What she realized was that her success was dependent on the farmer. What she realized was no one was giving credit due to that farmer, no one even knew about the farmer as the real secret ingredient — they only knew they could buy a jar of delicious homemade sauce.

Several years ago, Tessa took to the street and then to the back roads to further her mission of exposing the farmer to the masses, the public, asking the farm families if she could help promote their livelihood and bring awareness to their important work.

Most of those farmers took one look at Tessa and hid under their cows! Tessa was to farmers what Rita Hayworth was to troops! What could this red headed bombshell ever do to help me?

Well, with the energy of the energizer bunny, the tenacity of Oliver North and the willfulness of Warren Buffett, Tessa is trying to educate those that will listen to the benefit of the barn.

Where is the succession if the farmer is 60 years old? Who is going to grow our food in the future? Where is the money coming from to sustain family farms?

The Friends of the Farmer, FarmOn! Hudson Valley Food Lovers Festival is step one on Tessa's ladder of education and awareness.

Who's next?

"In any facet of life, America is built on legacy, heirloom and tradition — where are those European roots? Who is going to repair these experiences? Who will be responsible for sustainability, commerce and succession in our communities in agriculture? When did we swap convenience for nutrition?" Tessa despaired and continued, "If every single person in America would stop at a farm market or purchase just one ingredient from the farm for one meal every day — what would happen?"

These are the questions Tessa is trying to answer. Her quest for goodness for all is realized through her continued efforts to meet your farmer at the festival called "FarmOn!" and bring awareness to your food choices and sources.

This festival and this story is Tessa's testament to her devotion and the possibility of changing the way we eat. Being healthy, supporting economic development in our community with a view to making the farmer rich — these are the thoughts that plague Tessa.

"Meeting the farmer changed my life," Tessa told me passionately.

We should all be so inspired. To appreciate that guy that got up at 4 a.m. and mucked those cows, plowed that field, planted those crops, pruned those trees, harvested that wheat all to feed us is worth praise.

If every single person left the festival and thought about who makes their food — would that make a difference? Tessa hopes so. That's who Tessa is. FarmOn!

Visit FarmOn! on Twitter at @FarmOnFarmOn.

THE SCHEDULE for FARMON!

FarmOn! is a two-day festival, with the first event July 19 at the Copake Country Club, referred to as the Hootenanny! — a benefit to foster the entrepreneurial spirit of youth in agriculture, in partnership with Cornell Cooperative Extension, Questar III, 4-H, Columbia Land Conservancy and the Taconic Hills Harvest Club.

It's on with "Camp FarmOn!"where from July 8 to 18 students benefit from internships and farm visits at a summer camp with a business mind in agriculture. Columbia Land Conservancy also funds town summer camps for kids and with each town that hosts their camps, Camp FarmOn will support a trip to the farm, which lends kids an experience of planting, picking and eating.

Since the inception of Friends of the Farmer in 2011, the FarmOn! Foundation has donated $10,000 to help sponsor these farm to school programs and scholarships in the Hudson Valley region, as well as spent $150,000 locally sourcing from farms and small businesses.

In addition to the festivities at the Hootenanny, a silent and live auction will provide the lucky bidder tickets to the Broadway show, "Kinky Boots" with backstage passes to meet cast and crew; "Herd the cows with Farmer Fred" offers a very real life experience bringing the cows from the pasture into the barn where you can see how cows are milked and how your milk is produced at the Hill-Over-Healthy Farm; cheese-making and tasting from Twin Maple Creamery; Burger & Bourbon Barbecue at Hillrock Estate Distillery, which will let you see how solera-aged bourbon is made and how it pairs perfectly with a grass-fed burger; a backyard barbecue for 10 people delivered from the farm to your table; and cow meditation with yoga in the field.

Taste the treats from the newest table in town — Fish & Game restaurant located on South Third Street in Hudson. A fabulous concept by Chef Zakary Pelaccio and Jori Jayne Emde of Lady Jayne's Alchemy, host chefs for the Hootenanny! Farm Fresh benefit dinner.

July 20, the second day, is a huge food lovers festival where you can meet a farmer, shop the locavore village with specialty food producers, sign up for a CSA, consume local libations, learn from local supporters of agriculture and sample farm fresh bounty!

From 3:30 p.m. on listen to live music from headliner Lukas Nelson (Willie's raising his replacement!) and his band Promise of the Real, sponsored by John Varvatos.

From 11 a.m. to 1:30 p.m., view a cooking demo sponsored by Hudson Valley Bounty for A Taste of the Farm. From 2 to 3 p.m. listen to Pocatello Banjo sounds, fish with your kids or sit pond-side and watch your kids frolic among the antique tractor parade and pony rides with activities scheduled all day.

Enjoy the feast from the farm and have fun with friends and family on the lawn lakeside at Copake Lake.

For tickets and information, visit FriendsoftheFarmer.com or call 518-325-9437.
Copyright © 2013 Register Star