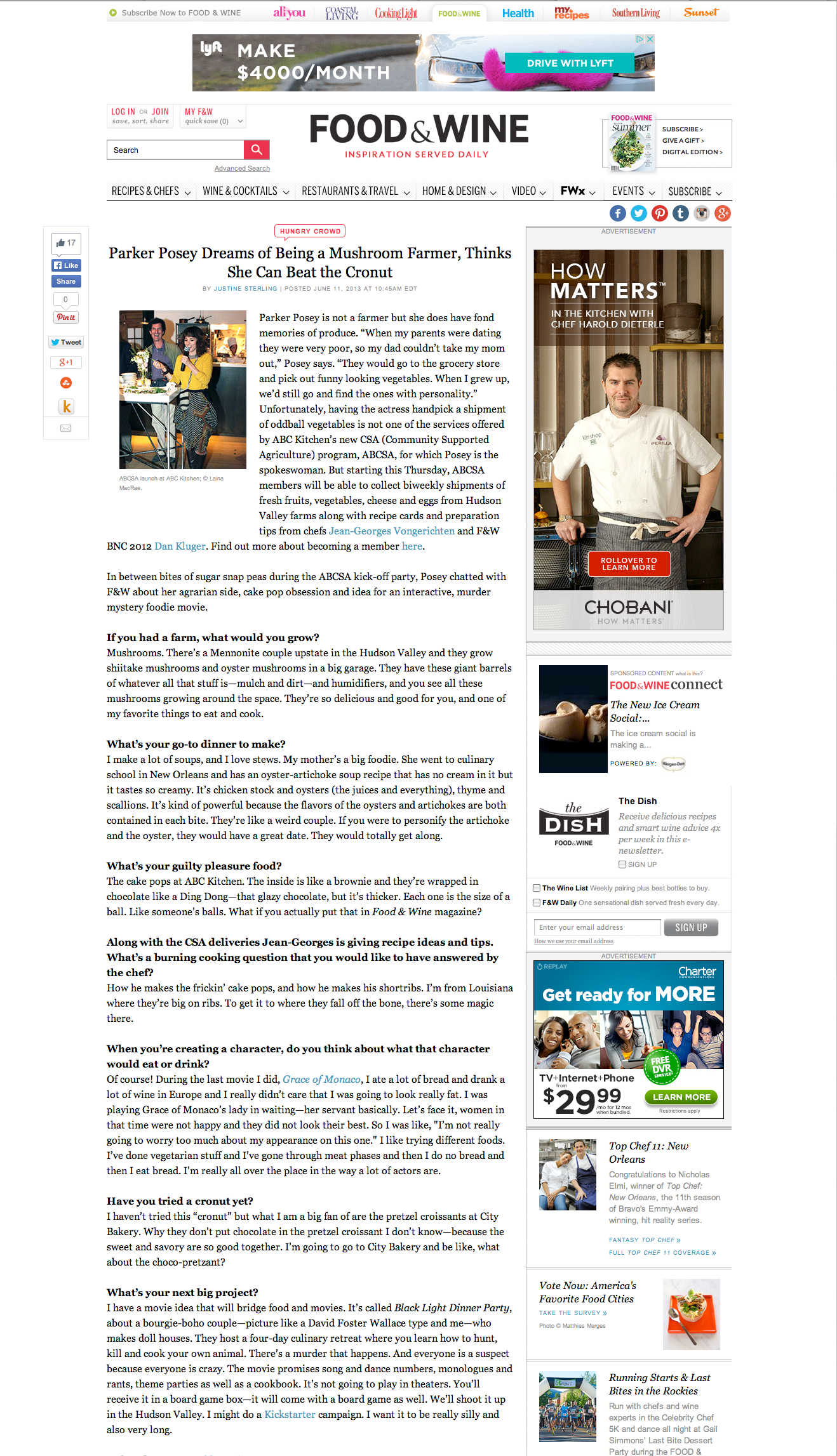 Jun
11
2013
2013-06-11 Food and Wine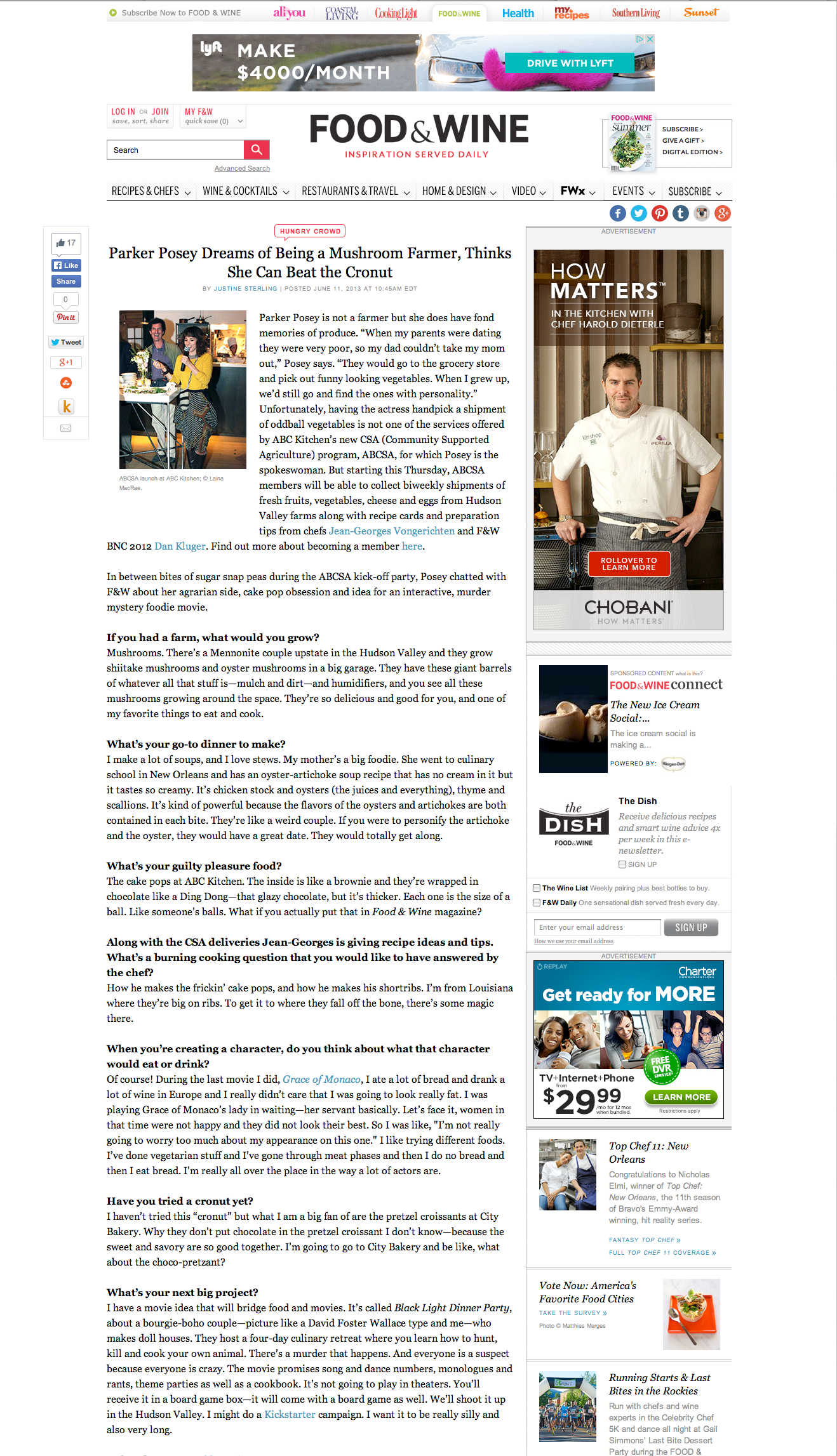 Parker Posey Dreams of Being a Mushroom Farmer, Thinks She Can Beat the Cronut

BY JUSTINE STERLING | POSTED JUNE 11, 2013 AT 10:45AM EDT

Parker Posey is not a farmer but she does have fond memories of produce. "When my parents were dating they were very poor, so my dad couldn't take my mom out," Posey says. "They would go to the grocery store and pick out funny looking vegetables. When I grew up, we'd still go and find the ones with personality." Unfortunately, having the actress handpick a shipment of oddball vegetables is not one of the services offered by ABC Kitchen's new CSA (Community Supported Agriculture) program, ABCSA, for which Posey is the spokeswoman. But starting this Thursday, ABCSA members will be able to collect biweekly shipments of fresh fruits, vegetables, cheese and eggs from Hudson Valley farms along with recipe cards and preparation tips from chefs Jean-Georges Vongerichten and F&W BNC 2012 Dan Kluger. Find out more about becoming a member here.

In between bites of sugar snap peas during the ABCSA kick-off party, Posey chatted with F&W about her agrarian side, cake pop obsession and idea for an interactive, murder mystery foodie movie.

If you had a farm, what would you grow?

Mushrooms. There's a Mennonite couple upstate in the Hudson Valley and they grow shiitake mushrooms and oyster mushrooms in a big garage. They have these giant barrels of whatever all that stuff is—mulch and dirt—and humidifiers, and you see all these mushrooms growing around the space. They're so delicious and good for you, and one of my favorite things to eat and cook.

What's your go-to dinner to make?

I make a lot of soups, and I love stews. My mother's a big foodie. She went to culinary school in New Orleans and has an oyster-artichoke soup recipe that has no cream in it but it tastes so creamy. It's chicken stock and oysters (the juices and everything), thyme and scallions. It's kind of powerful because the flavors of the oysters and artichokes are both contained in each bite. They're like a weird couple. If you were to personify the artichoke and the oyster, they would have a great date. They would totally get along.


What's your guilty pleasure food?
The cake pops at ABC Kitchen. The inside is like a brownie and they're wrapped in chocolate like a Ding Dong—that glazy chocolate, but it's thicker. Each one is the size of a ball. Like someone's balls. What if you actually put that in Food & Wine magazine?

Along with the CSA deliveries Jean-Georges is giving recipe ideas and tips. What's a burning cooking question that you would like to have answered by the chef?

How he makes the frickin' cake pops, and how he makes his shortribs. I'm from Louisiana where they're big on ribs. To get it to where they fall off the bone, there's some magic there.

When you're creating a character, do you think about what that character would eat or drink?

Of course! During the last movie I did, Grace of Monaco, I ate a lot of bread and drank a lot of wine in Europe and I really didn't care that I was going to look really fat. I was playing Grace of Monaco's lady in waiting—her servant basically. Let's face it, women in that time were not happy and they did not look their best. So I was like, "I'm not really going to worry too much about my appearance on this one." I like trying different foods. I've done vegetarian stuff and I've gone through meat phases and then I do no bread and then I eat bread. I'm really all over the place in the way a lot of actors are.

Have you tried a cronut yet?

I haven't tried this "cronut" but what I am a big fan of are the pretzel croissants at City Bakery. Why they don't put chocolate in the pretzel croissant I don't know—because the sweet and savory are so good together. I'm going to go to City Bakery and be like, what about the choco-pretzant?

What's your next big project?

I have a movie idea that will bridge food and movies. It's called Black Light Dinner Party, about a bourgie-boho couple—picture like a David Foster Wallace type and me—who makes doll houses. They host a four-day culinary retreat where you learn how to hunt, kill and cook your own animal. There's a murder that happens. And everyone is a suspect because everyone is crazy. The movie promises song and dance numbers, monologues and rants, theme parties as well as a cookbook. It's not going to play in theaters. You'll receive it in a board game box—it will come with a board game as well. We'll shoot it up in the Hudson Valley. I might do a Kickstarter campaign. I want it to be really silly and also very long.
Copyright © 2013 Food and Wine