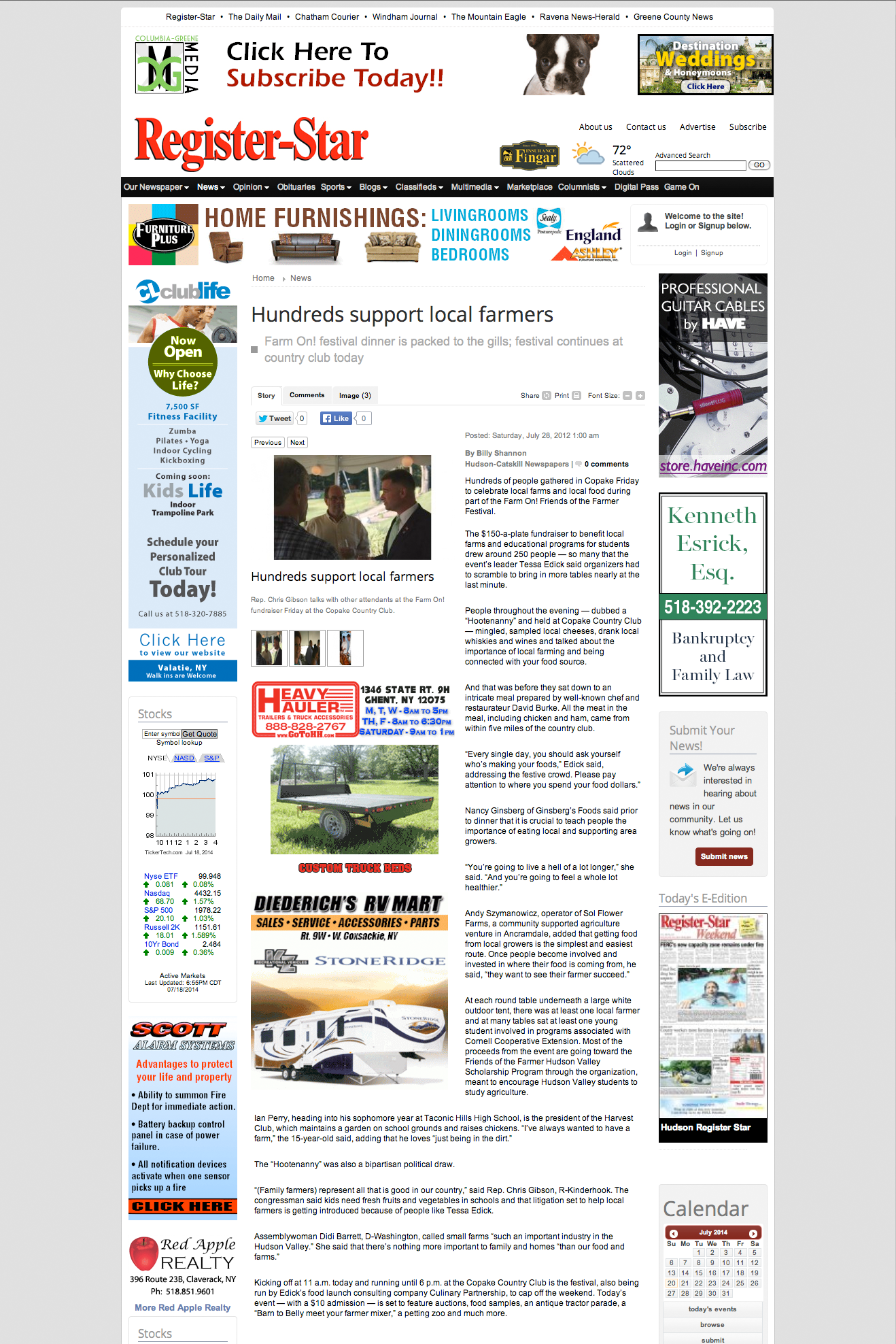 Jul
28
2012
2012-07-28 Register Star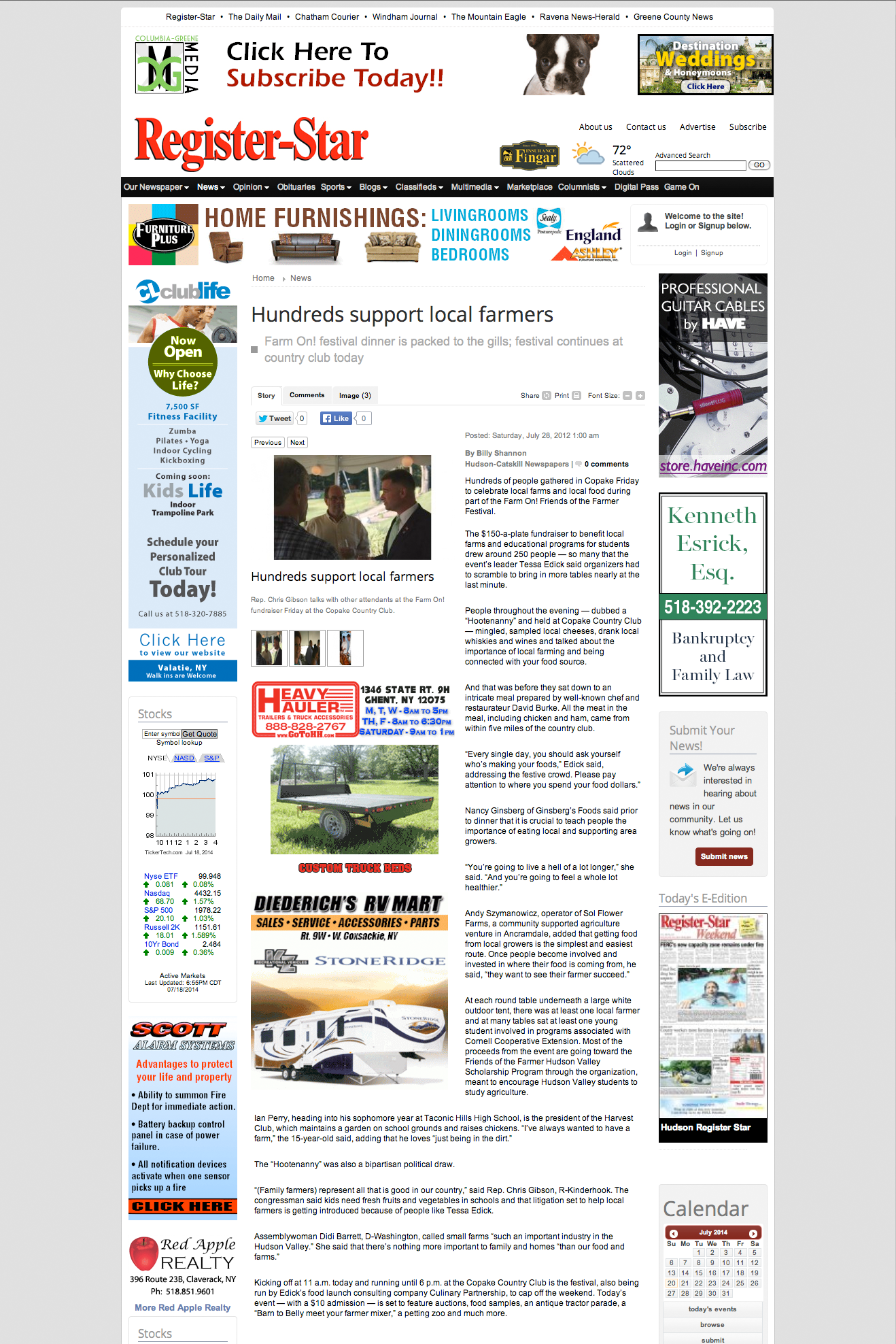 Hundreds support local farmers

Farm On! festival dinner is packed to the gills; festival continues at country club today

Posted: Saturday, July 28, 2012 1:00 am
By Billy Shannon

Hudson-Catskill Newspapers | 0 comments
Hundreds of people gathered in Copake Friday to celebrate local farms and local food during part of the Farm On! Friends of the Farmer Festival.

The $150-a-plate fundraiser to benefit local farms and educational programs for students drew around 250 people — so many that the event's leader Tessa Edick said organizers had to scramble to bring in more tables nearly at the last minute.

People throughout the evening — dubbed a "Hootenanny" and held at Copake Country Club — mingled, sampled local cheeses, drank local whiskies and wines and talked about the importance of local farming and being connected with your food source.

And that was before they sat down to an intricate meal prepared by well-known chef and restaurateur David Burke. All the meat in the meal, including chicken and ham, came from within five miles of the country club.

"Every single day, you should ask yourself who's making your foods," Edick said, addressing the festive crowd. Please pay attention to where you spend your food dollars."

Nancy Ginsberg of Ginsberg's Foods said prior to dinner that it is crucial to teach people the importance of eating local and supporting area growers.

"You're going to live a hell of a lot longer," she said. "And you're going to feel a whole lot healthier."

Andy Szymanowicz, operator of Sol Flower Farms, a community supported agriculture venture in Ancramdale, added that getting food from local growers is the simplest and easiest route. Once people become involved and invested in where their food is coming from, he said, "they want to see their farmer succeed."

At each round table underneath a large white outdoor tent, there was at least one local farmer and at many tables sat at least one young student involved in programs associated with Cornell Cooperative Extension. Most of the proceeds from the event are going toward the Friends of the Farmer Hudson Valley Scholarship Program through the organization, meant to encourage Hudson Valley students to study agriculture.

Ian Perry, heading into his sophomore year at Taconic Hills High School, is the president of the Harvest Club, which maintains a garden on school grounds and raises chickens. "I've always wanted to have a farm," the 15-year-old said, adding that he loves "just being in the dirt."

The "Hootenanny" was also a bipartisan political draw.

"(Family farmers) represent all that is good in our country," said Rep. Chris Gibson, R-Kinderhook. The congressman said kids need fresh fruits and vegetables in schools and that litigation set to help local farmers is getting introduced because of people like Tessa Edick.

Assemblywoman Didi Barrett, D-Washington, called small farms "such an important industry in the Hudson Valley." She said that there's nothing more important to family and homes "than our food and farms."

Kicking off at 11 a.m. today and running until 6 p.m. at the Copake Country Club is the festival, also being run by Edick's food launch consulting company Culinary Partnership, to cap off the weekend. Today's event — with a $10 admission — is set to feature auctions, food samples, an antique tractor parade, a "Barn to Belly meet your farmer mixer," a petting zoo and much more.
Copyright © 2012 Register Star