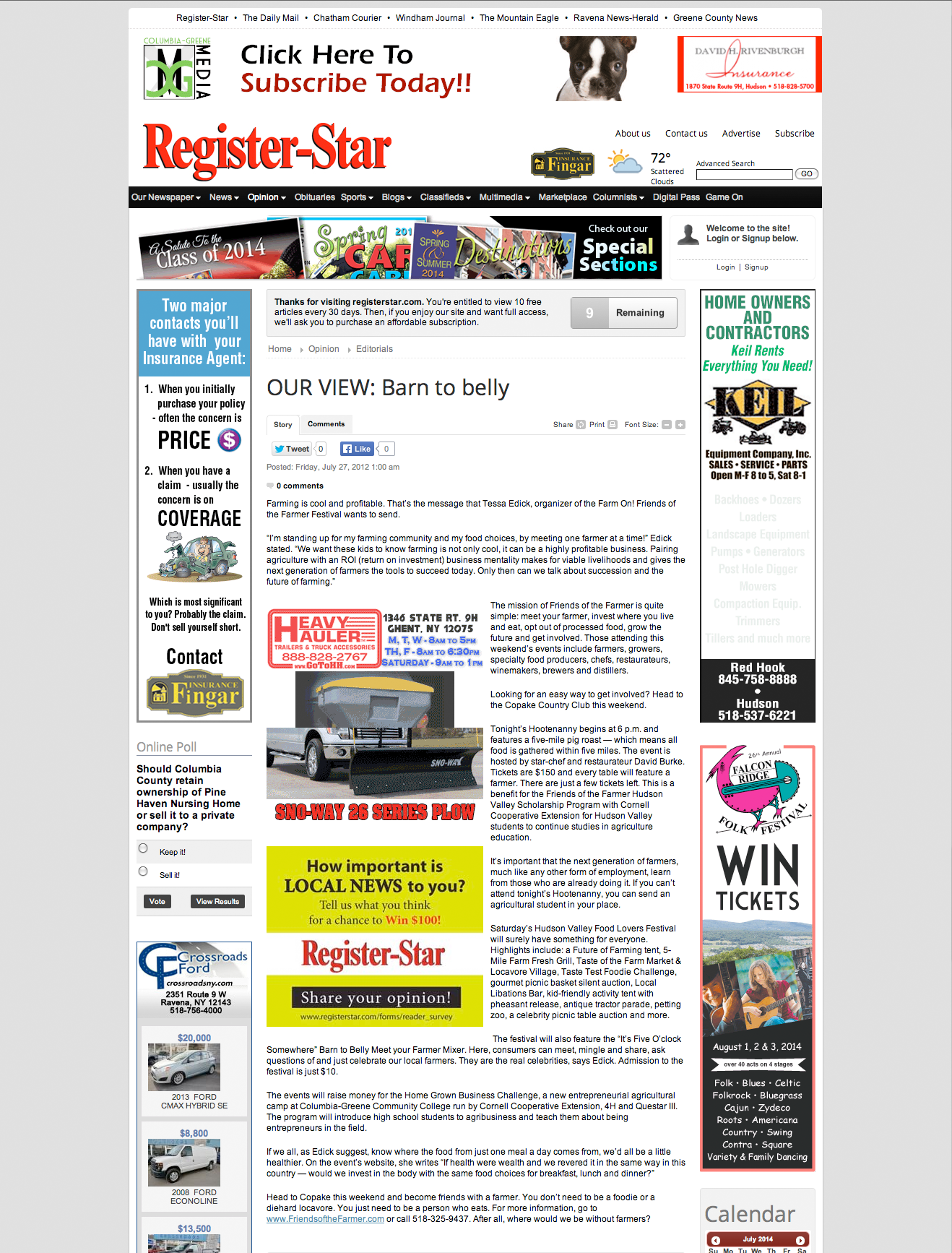 Jul
27
2012
2012-07-27 Register Star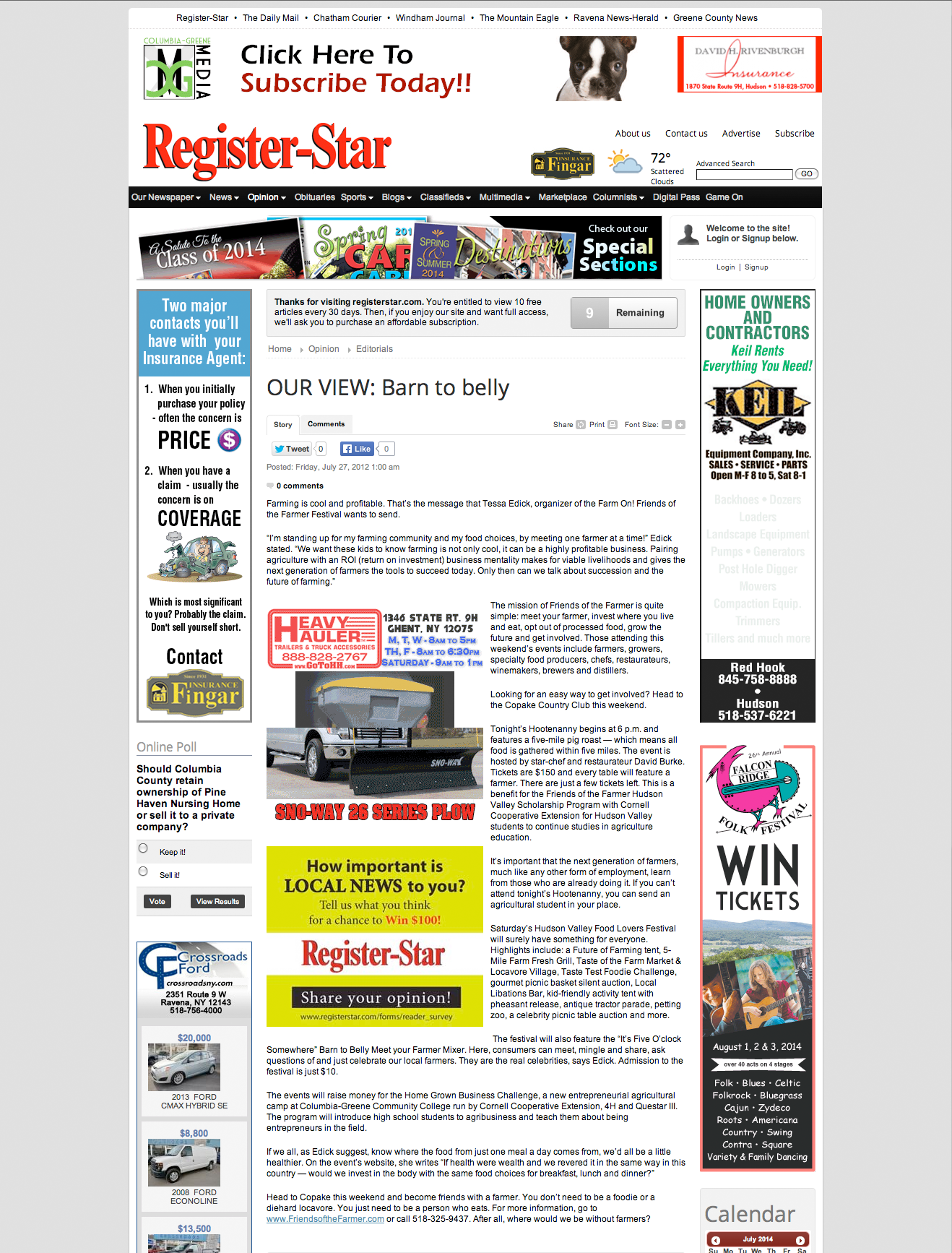 OUR VIEW: Barn to belly

Posted: Friday, July 27, 2012 1:00 am

"I'm standing up for my farming community and my food choices, by meeting one farmer at a time!" Edick stated. "We want these kids to know farming is not only cool, it can be a highly profitable business. Pairing agriculture with an ROI (return on investment) business mentality makes for viable livelihoods and gives the next generation of farmers the tools to succeed today. Only then can we talk about succession and the future of farming."

The mission of Friends of the Farmer is quite simple: meet your farmer, invest where you live and eat, opt out of processed food, grow the future and get involved. Those attending this weekend's events include farmers, growers, specialty food producers, chefs, restaurateurs, winemakers, brewers and distillers.

Looking for an easy way to get involved? Head to the Copake Country Club this weekend.

Tonight's Hootenanny begins at 6 p.m. and features a five-mile pig roast — which means all food is gathered within five miles. The event is hosted by star-chef and restaurateur David Burke. Tickets are $150 and every table will feature a farmer. There are just a few tickets left. This is a benefit for the Friends of the Farmer Hudson Valley Scholarship Program with Cornell Cooperative Extension for Hudson Valley students to continue studies in agriculture education.

It's important that the next generation of farmers, much like any other form of employment, learn from those who are already doing it. If you can't attend tonight's Hootenanny, you can send an agricultural student in your place. 

Saturday's Hudson Valley Food Lovers Festival will surely have something for everyone. Highlights include: a Future of Farming tent, 5-Mile Farm Fresh Grill, Taste of the Farm Market & Locavore Village, Taste Test Foodie Challenge, gourmet picnic basket silent auction, Local Libations Bar, kid-friendly activity tent with pheasant release, antique tractor parade, petting zoo, a celebrity picnic table auction and more.

The festival will also feature the "It's Five O'clock Somewhere" Barn to Belly Meet your Farmer Mixer. Here, consumers can meet, mingle and share, ask questions of and just celebrate our local farmers. They are the real celebrities, says Edick. Admission to the festival is just $10.

The events will raise money for the Home Grown Business Challenge, a new entrepreneurial agricultural camp at Columbia-Greene Community College run by Cornell Cooperative Extension, 4H and Questar III. The program will introduce high school students to agribusiness and teach them about being entrepreneurs in the field.

If we all, as Edick suggest, know where the food from just one meal a day comes from, we'd all be a little healthier. On the event's website, she writes "If health were wealth and we revered it in the same way in this country — would we invest in the body with the same food choices for breakfast, lunch and dinner?"

Head to Copake this weekend and become friends with a farmer. You don't need to be a foodie or a diehard locavore. You just need to be a person who eats. For more information, go to www.FriendsoftheFarmer.com or call 518-325-9437. After all, where would we be without farmers?
Copyright © 2012 Register Star