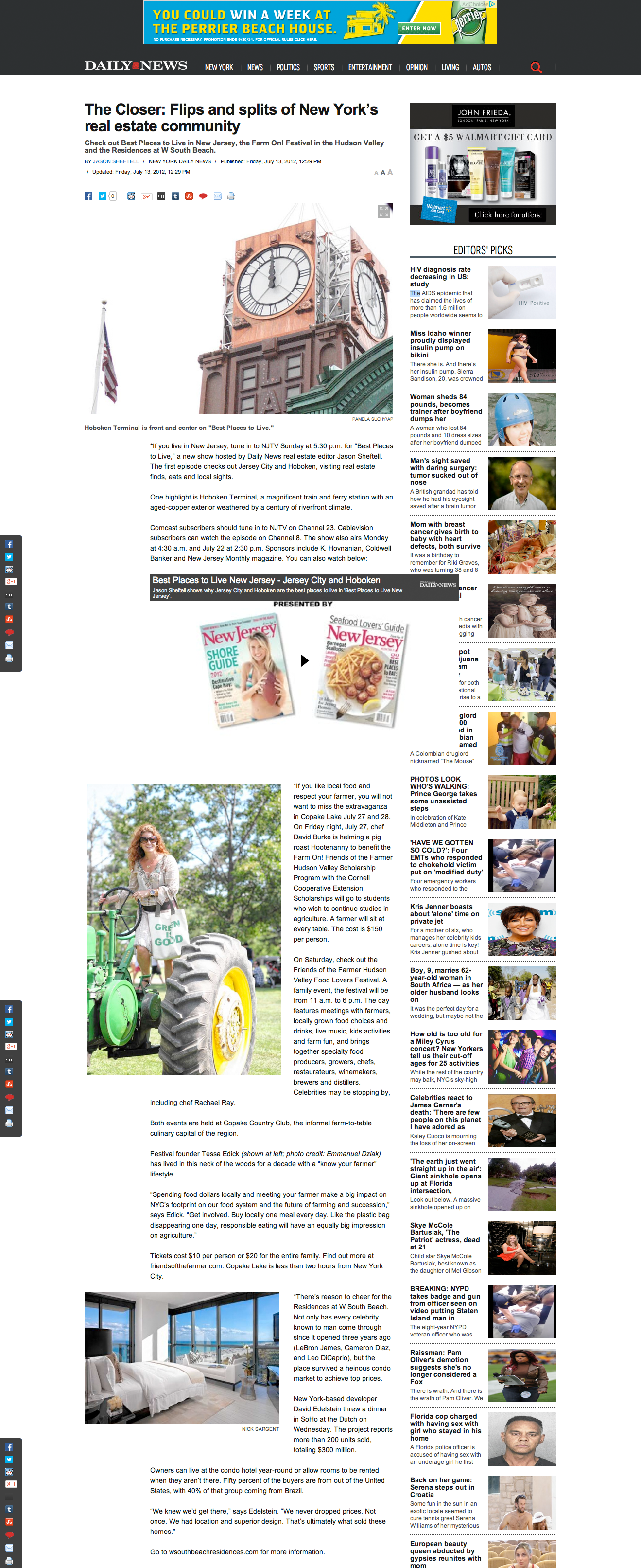 Jul
13
2012
2012-07-13 Daily News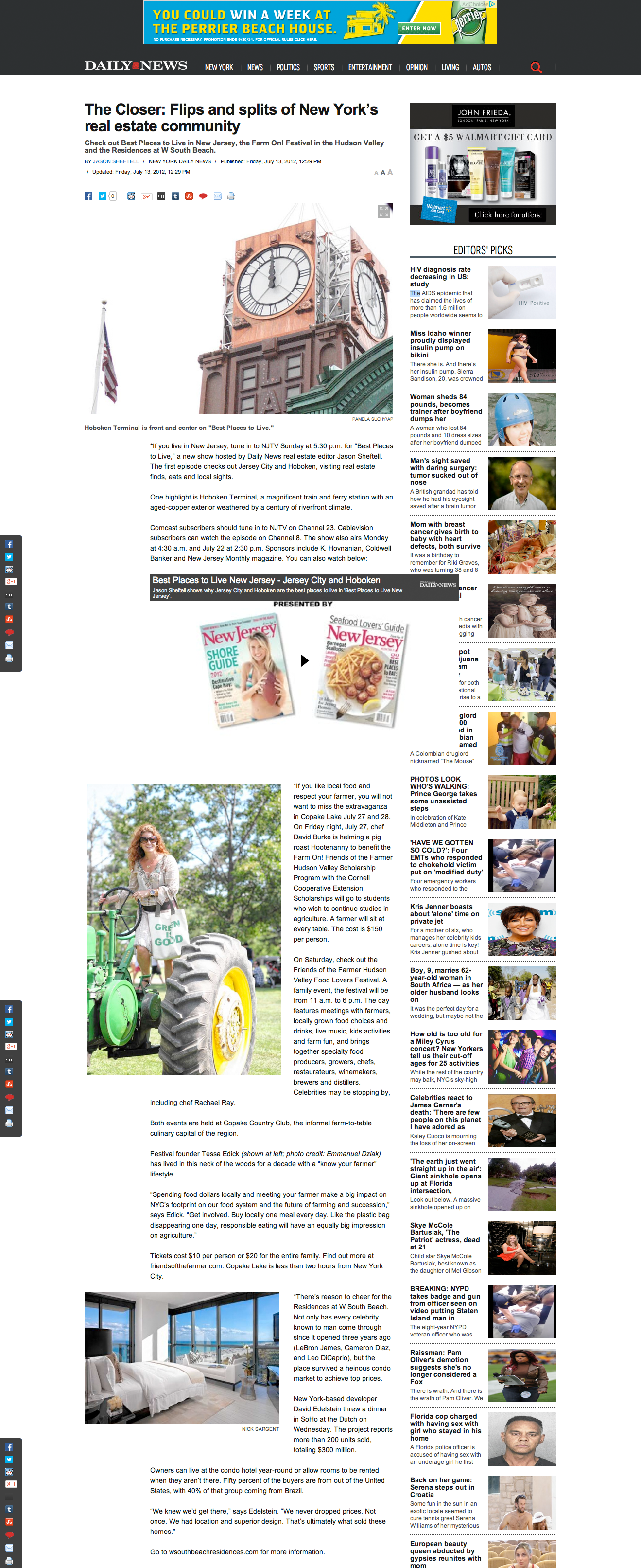 The Closer: Flips and splits of New York's real estate community

Check out Best Places to Live in New Jersey, the Farm On! Festival in the Hudson Valley and the Residences at W South Beach.

BY JASON SHEFTELL  NEW YORK DAILY NEWS Published: Friday, July 13, 2012, 12:29 PM Updated: Friday, July 13, 2012, 12:29 PM

Hoboken Terminal is front and center on "Best Places to Live."

*If you live in New Jersey, tune in to NJTV Sunday at 5:30 p.m. for "Best Places to Live," a new show hosted by Daily News real estate editor Jason Sheftell. The first episode checks out Jersey City and Hoboken, visiting real estate finds, eats and local sights.

One highlight is Hoboken Terminal, a magnificent train and ferry station with an aged-copper exterior weathered by a century of riverfront climate.

Comcast subscribers should tune in to NJTV on Channel 23. Cablevision subscribers can watch the episode on Channel 8. The show also airs Monday at 4:30 a.m. and July 22 at 2:30 p.m. Sponsors include K. Hovnanian, Coldwell Banker and New Jersey Monthly magazine. You can also watch below:

*If you like local food and respect your farmer, you will not want to miss the extravaganza in Copake Lake July 27 and 28. On Friday night, July 27, chef David Burke is helming a pig roast Hootenanny to benefit the Farm On! Friends of the Farmer Hudson Valley Scholarship Program with the Cornell Cooperative Extension. Scholarships will go to students who wish to continue studies in agriculture. A farmer will sit at every table. The cost is $150 per person.

On Saturday, check out the Friends of the Farmer Hudson Valley Food Lovers Festival. A family event, the festival will be from 11 a.m. to 6 p.m. The day features meetings with farmers, locally grown food choices and drinks, live music, kids activities and farm fun, and brings together specialty food producers, growers, chefs, restaurateurs, winemakers, brewers and distillers. Celebrities may be stopping by, including chef Rachael Ray.

Both events are held at Copake Country Club, the informal farm-to-table culinary capital of the region.

Festival founder Tessa Edick (shown at left; photo credit: Emmanuel Dziak) has lived in this neck of the woods for a decade with a "know your farmer" lifestyle.

"Spending food dollars locally and meeting your farmer make a big impact on NYC's footprint on our food system and the future of farming and succession," says Edick. "Get involved. Buy locally one meal every day. Like the plastic bag disappearing one day, responsible eating will have an equally big impression on agriculture."

Tickets cost $10 per person or $20 for the entire family. Find out more at friendsofthefarmer.com. Copake Lake is less than two hours from New York City.

*There's reason to cheer for the Residences at W South Beach. Not only has every celebrity known to man come through since it opened three years ago (LeBron James, Cameron Diaz, and Leo DiCaprio), but the place survived a heinous condo market to achieve top prices.

New York-based developer David Edelstein threw a dinner in SoHo at the Dutch on Wednesday. The project reports more than 200 units sold, totaling $300 million.

Owners can live at the condo hotel year-round or allow rooms to be rented when they aren't there. Fifty percent of the buyers are from out of the United States, with 40% of that group coming from Brazil.

"We knew we'd get there," says Edelstein. "We never dropped prices. Not once. We had location and superior design. That's ultimately what sold these homes."

Go to wsouthbeachresidences.com for more information.
Copyright © 2012 Daily News