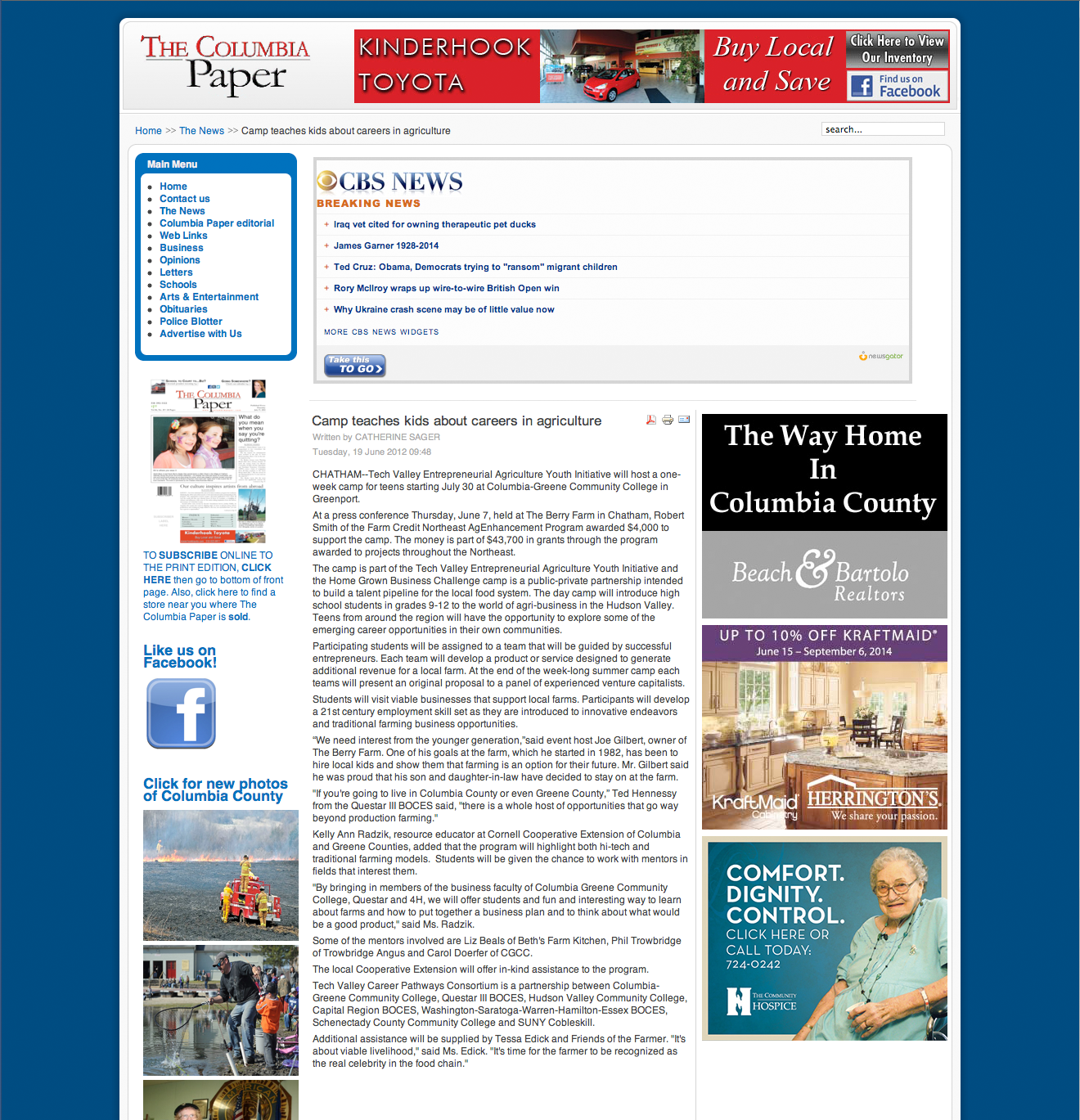 Jun
19
2012
2012-06-19 The Columbia Paper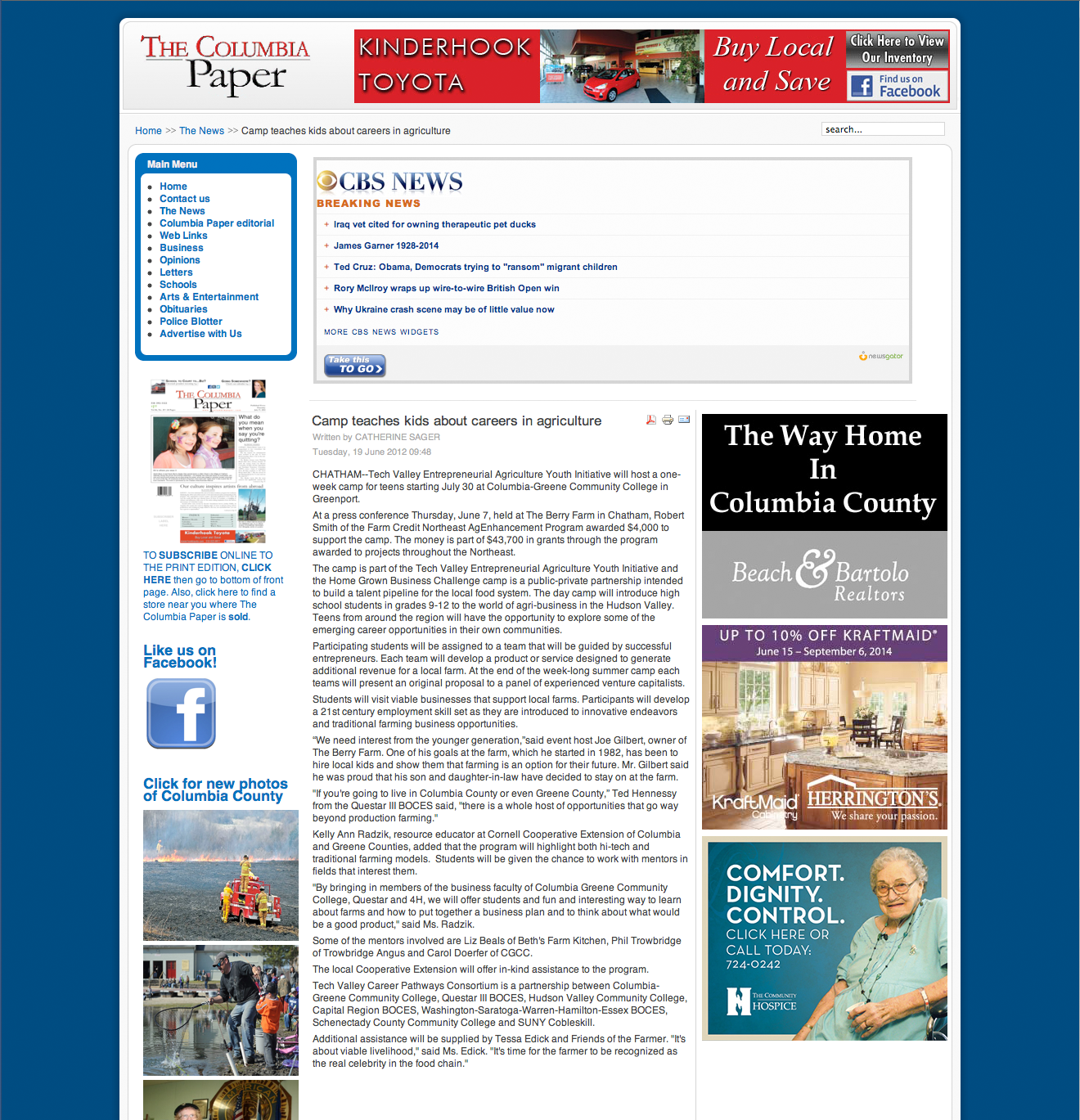 Camp teaches kids about careers in agriculture			

Written by CATHERINE SAGER	   

Tuesday, 19 June 2012 09:48

CHATHAM--Tech Valley Entrepreneurial Agriculture Youth Initiative will host a one-week camp for teens starting July 30 at Columbia-Greene Community College in Greenport.

At a press conference Thursday, June 7, held at The Berry Farm in Chatham, Robert Smith of the Farm Credit Northeast AgEnhancement Program awarded $4,000 to support the camp. The money is part of $43,700 in grants through the program awarded to projects throughout the Northeast.

The camp is part of the Tech Valley Entrepreneurial Agriculture Youth Initiative and the Home Grown Business Challenge camp is a public-private partnership intended to build a talent pipeline for the local food system. The day camp will introduce high school students in grades 9-12 to the world of agri-business in the Hudson Valley. Teens from around the region will have the opportunity to explore some of the emerging career opportunities in their own communities.

Participating students will be assigned to a team that will be guided by successful entrepreneurs. Each team will develop a product or service designed to generate additional revenue for a local farm. At the end of the week-long summer camp each teams will present an original proposal to a panel of experienced venture capitalists.

Students will visit viable businesses that support local farms. Participants will develop a 21st century employment skill set as they are introduced to innovative endeavors and traditional farming business opportunities.

"We need interest from the younger generation,"said event host Joe Gilbert, owner of The Berry Farm. One of his goals at the farm, which he started in 1982, has been to hire local kids and show them that farming is an option for their future. Mr. Gilbert said he was proud that his son and daughter-in-law have decided to stay on at the farm.

"If you're going to live in Columbia County or even Greene County," Ted Hennessy from the Questar III BOCES said, "there is a whole host of opportunities that go way beyond production farming."

Kelly Ann Radzik, resource educator at Cornell Cooperative Extension of Columbia and Greene Counties, added that the program will highlight both hi-tech and traditional farming models.  Students will be given the chance to work with mentors in fields that interest them.

"By bringing in members of the business faculty of Columbia Greene Community College, Questar and 4H, we will offer students and fun and interesting way to learn about farms and how to put together a business plan and to think about what would be a good product," said Ms. Radzik.

Some of the mentors involved are Liz Beals of Beth's Farm Kitchen, Phil Trowbridge of Trowbridge Angus and Carol Doerfer of CGCC.

The local Cooperative Extension will offer in-kind assistance to the program.

Tech Valley Career Pathways Consortium is a partnership between Columbia-Greene Community College, Questar III BOCES, Hudson Valley Community College, Capital Region BOCES, Washington-Saratoga-Warren-Hamilton-Essex BOCES, Schenectady County Community College and SUNY Cobleskill.

Additional assistance will be supplied by Tessa Edick and Friends of the Farmer. "It's about viable livelihood," said Ms. Edick. "It's time for the farmer to be recognized as the real celebrity in the food chain."
Copyright © 2012 The Columbia Paper