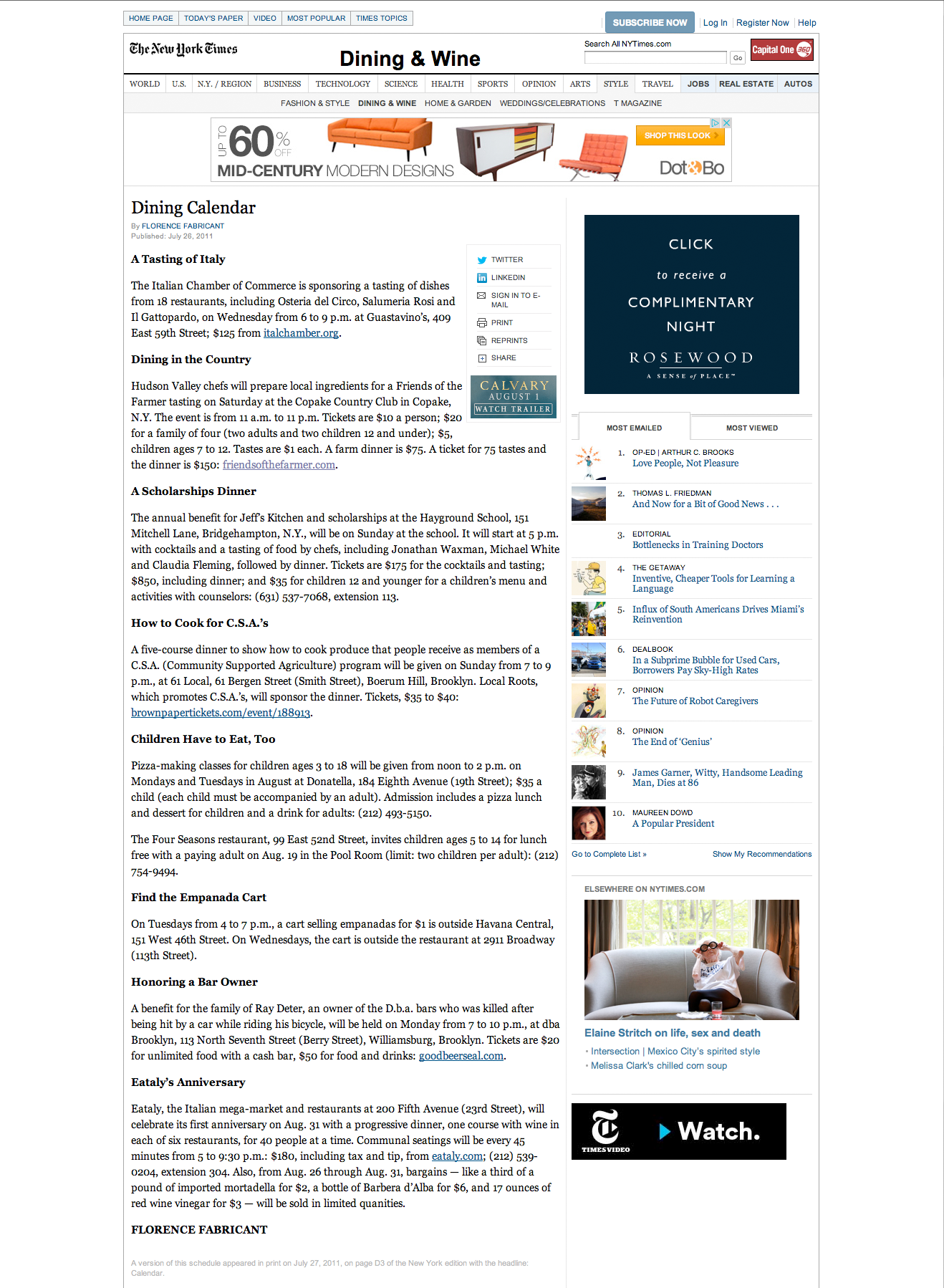 Jul
26
2011
2011-07-26 The New York Times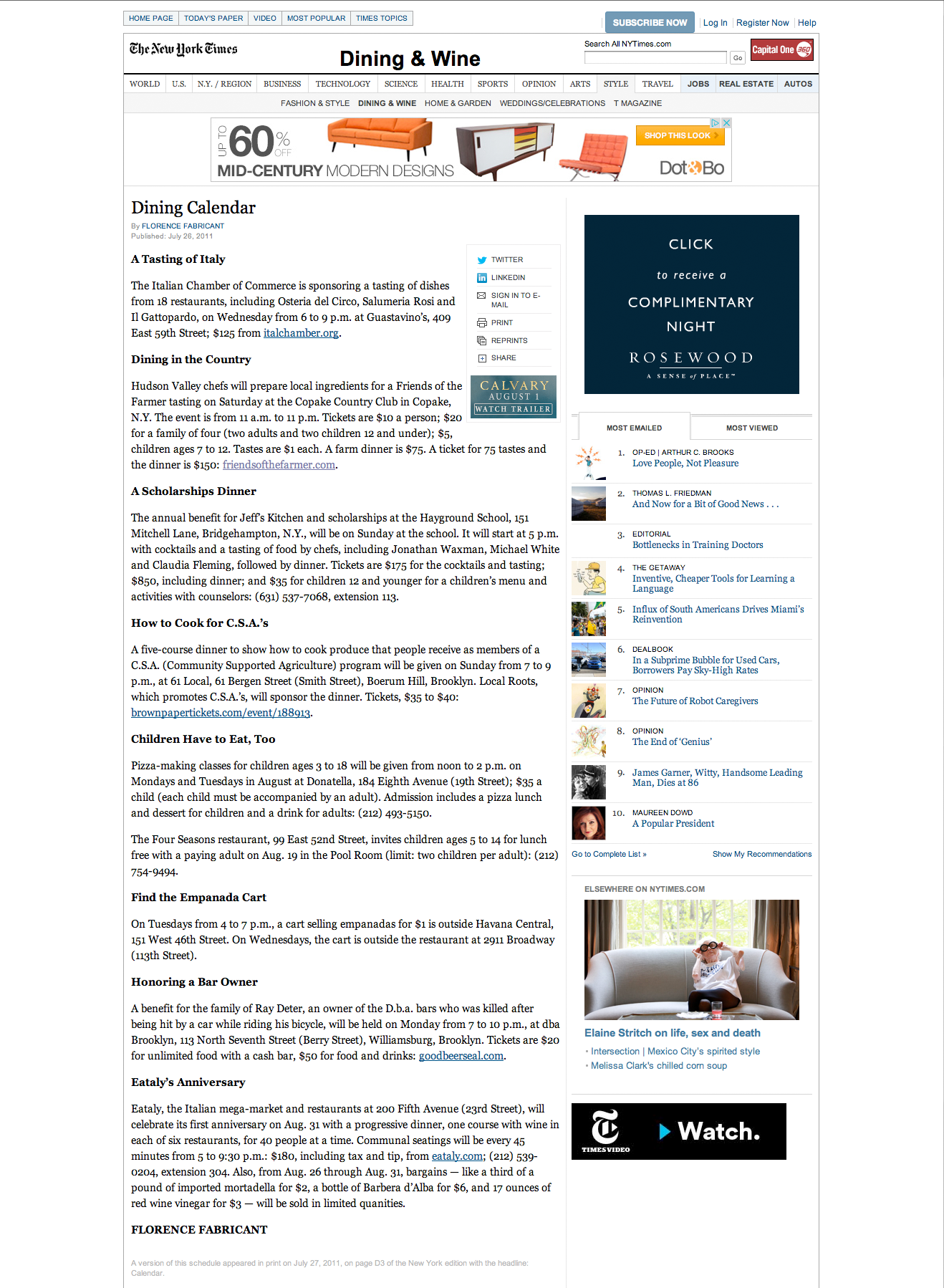 Dining Calendar

By FLORENCE FABRICANT
Published: July 26, 2011

A Tasting of Italy

The Italian Chamber of Commerce is sponsoring a tasting of dishes from 18 restaurants, including Osteria del Circo, Salumeria Rosi and Il Gattopardo, on Wednesday from 6 to 9 p.m. at Guastavino's, 409 East 59th Street; $125 from italchamber.org.

Dining in the Country

Hudson Valley chefs will prepare local ingredients for a Friends of the Farmer tasting on Saturday at the Copake Country Club in Copake, N.Y. The event is from 11 a.m. to 11 p.m. Tickets are $10 a person; $20 for a family of four (two adults and two children 12 and under); $5, children ages 7 to 12. Tastes are $1 each. A farm dinner is $75. A ticket for 75 tastes and the dinner is $150: friendsofthefarmer.com.

A Scholarships Dinner

The annual benefit for Jeff's Kitchen and scholarships at the Hayground School, 151 Mitchell Lane, Bridgehampton, N.Y., will be on Sunday at the school. It will start at 5 p.m. with cocktails and a tasting of food by chefs, including Jonathan Waxman, Michael White and Claudia Fleming, followed by dinner. Tickets are $175 for the cocktails and tasting; $850, including dinner; and $35 for children 12 and younger for a children's menu and activities with counselors: (631) 537-7068, extension 113.

How to Cook for C.S.A.'s

A five-course dinner to show how to cook produce that people receive as members of a C.S.A. (Community Supported Agriculture) program will be given on Sunday from 7 to 9 p.m., at 61 Local, 61 Bergen Street (Smith Street), Boerum Hill, Brooklyn. Local Roots, which promotes C.S.A.'s, will sponsor the dinner. Tickets, $35 to $40: brownpapertickets.com/event/188913.

Children Have to Eat, Too

Pizza-making classes for children ages 3 to 18 will be given from noon to 2 p.m. on Mondays and Tuesdays in August at Donatella, 184 Eighth Avenue (19th Street); $35 a child (each child must be accompanied by an adult). Admission includes a pizza lunch and dessert for children and a drink for adults: (212) 493-5150.

The Four Seasons restaurant, 99 East 52nd Street, invites children ages 5 to 14 for lunch free with a paying adult on Aug. 19 in the Pool Room (limit: two children per adult): (212) 754-9494.

Find the Empanada Cart

On Tuesdays from 4 to 7 p.m., a cart selling empanadas for $1 is outside Havana Central, 151 West 46th Street. On Wednesdays, the cart is outside the restaurant at 2911 Broadway (113th Street).

Honoring a Bar Owner

A benefit for the family of Ray Deter, an owner of the D.b.a. bars who was killed after being hit by a car while riding his bicycle, will be held on Monday from 7 to 10 p.m., at dba Brooklyn, 113 North Seventh Street (Berry Street), Williamsburg, Brooklyn. Tickets are $20 for unlimited food with a cash bar, $50 for food and drinks: goodbeerseal.com.

Eataly's Anniversary

Eataly, the Italian mega-market and restaurants at 200 Fifth Avenue (23rd Street), will celebrate its first anniversary on Aug. 31 with a progressive dinner, one course with wine in each of six restaurants, for 40 people at a time. Communal seatings will be every 45 minutes from 5 to 9:30 p.m.: $180, including tax and tip, from eataly.com; (212) 539-0204, extension 304. Also, from Aug. 26 through Aug. 31, bargains — like a third of a pound of imported mortadella for $2, a bottle of Barbera d'Alba for $6, and 17 ounces of red wine vinegar for $3 — will be sold in limited quanities.

FLORENCE FABRICANT

A version of this schedule appeared in print on July 27, 2011, on page D3 of the New York edition with the headline: Calendar.
Copyright © 2011 The New York Times